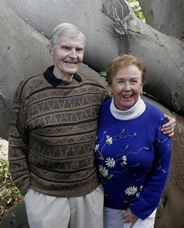 Olive Blakistone
October 28, 1929–March 21, 2015
Tom Blakistone
June 22, 1917 – March 6, 2009
Olive, together with her husband, Tom, founded North Coast Repertory Theatre in 1982.Olive's vision for a theatre "where artist and audience thrive through the intimacy of live theatre. . ." came true in Solana Beach.
Olive staged many shows which challenged her audiences. She staged The Normal Heart in 1986 which depicts the rise of HIV-aids crisis in New York. The play sold out, drawing audiences from all over San Diego. She staged Vaclav Havel's The Memorandum. Scheduled in North Coast Rep's lineup the year before when Vaclav Havel was an unknown jailed playwright, the former dissident had assumed the role of first president of The Czech Republic at the same time The Memorandum was opening. That play, also, drew audiences from all over the region.
The very first show Olive produced at North Coast Rep was Chapter Two. It is appropriate that a second production of Chapter Two was running at North Coast Rep when Olive exited the stage of life.
In 1982, North Coast Rep's founders, Tom Blakistone, an engineer and small-business entrepreneur, and his wife Olive were celebrating his retirement with a cruise to the Caribbean. Prior to their departure they had presented a business plan to the owner of a mall in Solana Beach to locate a new theatre on his property. Just before they left on their trip, they learned their proposal had been accepted and instead of retiring, they found themselves embarking on totally new careers.
Olive was born in Belfast, Northern Ireland. When she was five, her father, a British Army officer, was posted to Singapore and the family moved to the Far East. Fortunately, two years before Japan attacked and occupied Singapore, her father was transferred to Bombay.
As a youngster, Olive charmed the troops in Bombay with her Irish dancing and an occasional ingénue role in a play. One of her war-time adventures was being driven across Bombay in a British armored vehicle to play her part in Rope staged for the British military. Thus began Olive's interest in theatre.
In 1947, when Olive was 17, she returned to Belfast with her family when the British withdrew from India. Having grown up in a sub-tropical climate, Olive did not take kindly to the Northern Ireland weather. When her uncle in Los Angeles invited her to come to the U.S., she immigrated, settling in Long Beach where she took part in a number of local community theatre productions.
After she and Tom were married in 1961, they moved to Pasadena, where Olive organized a theatre group staging and directing a number of modest productions for appreciative local audiences.
After nine years as a stay-at-home mom raising their two children, Olive decided to return to college to continue her education. Olive earned a Master's degree in Speech and Drama from Occidental College in 1975 coinciding with the family's move to Del Mar.
Newly settled in Del Mar, Olive organized yet another theatre group – the Stratford Players – producing a number of plays over weekends in a Del Mar dance studio and building up a loyal audience in the process. However, Olive yearned for a dedicated space. Upon the acceptance of their business proposal, Olive's dream became reality.
Tom and Olive provided the initial funding for the space in Lomas Santa Fe Plaza, where it has remained for over 30 years, and, with the help of a small group of dedicated volunteers, North Coast Repertory Theatre went into business.
Olive's vision was to present polished, professional productions, making the best possible use of the physical, financial, and artistic resources available to her. This serious goal attracted a large cadre of talented and experienced volunteers – actors, technical support, and administrative helpers – that brought her vision to reality. Olive was North Coast Rep's Artistic Director for 15 years while Tom served as its Business Manager for 13 years.
Since opening, North Coast Rep has continued to provide an ever-increasing level of professionalism within each production. Initially an all-volunteer community theatre, North Coast Rep now operates under an Actors' Equity contract with an annual budget exceeding $1.5 million and a 10 person staff.
Everyone at North Coast Rep hold Olive and Tom in their hearts and believe that they celebrate their lives and love of theatre with each performance.