FOR IMMEDIATE RELEASE
The Angel Next Door
Written by Paul Slade Smith
Directed by David Ellenstein
From: Nancy Richards
nancy@northcoastrep.org
Office: 858-481-1055 ext.
Download Release
Download Photos
NORTH COAST REPERTORY THEATRE TOASTS NEW
SEASON 42 WITH AN ENTERTAINING WORLD PREMIERE COMEDY,
THE ANGEL NEXT DOOR
By Paul Slade Smith
Adapted from Play at the Castle by Ferenc Molnár
Performances Beginning Wednesday, Sept. 6, 2023
EXTENDED THROUGH SUNDAY, OCT. 8, 2023
Directed by David Ellenstein
Capturing the sheer joy, sophistication, and wit of 1940s screwball comedies, playwright Paul Slade Smith (The Outsider; Unnecessary Farce) has brilliantly adapted Ferenc Molnár's classic farce, Play at the Castle. Join an unforgettable cast of characters as they navigate romance, misunderstandings, and comical situations, setting the stage for a riotous disaster. Brace yourself for a perfect storm of comedic chaos, swept away by irresistible charm and rapid-fire banter. This delightful evening promises a non-stop rollercoaster of mirth, leaving you breathless with laughter.
THE ANGEL NEXT DOOR is making its world premiere debut at North Coast Repertory Theatre, and will transfer to Laguna Playhouse. Don't miss your chance to experience this theatrical gem that captures the essence of a bygone era while delivering a fresh and exhilarating entertainment. Book your tickets now and embark on a wildly funny journey with The Angel Next Door– a show that will transport you back in time while keeping you on the edge of your seat with laughter.
David Ellenstein directs Thomas Edward Daugherty,* Erin Noel Grennan,* Elinor Gunn,* Taubert Nadalini,* James Newcomb,* and Barbara E. Robertson,* in the ANGEL NEXT DOOR. The design team includes Marty Burnett (Resident Scenic Designer), Matthew Novotny (Light Design), Elisa Benzoni (Costume Design), Ian Scott (Sound Design), Cindy Rumley (Props), and Peter Herman (Hair & Wigs), and Annabelle Oellette (Production Assistant). Vernon Willet* is the Production Stage Manager.
*The actor or stage manager appears through the courtesy of Actors' Equity Association.
THE ANGEL NEXT DOOR  previews begin Wednesday, Sept. 6. Opening Night on Saturday, Sept. 9, at 8pm.  It will play Wednesdays and Thursdays at 7pm, Fridays and   Saturdays at 8pm, Saturday and Sunday matinees at 2pm, with Sundays at 7pm through Oct. 1. There will be a talkback with the artistic director and cast on Friday, Sept. 15. A performance has just been added on Wednesday, Sept. 27, at 2 pm. (See Schedule below). North Coast Repertory Theatre is located at 987 Lomas Santa Fe Drive, Solana Beach, CA 92075.  Tickets: Previews – $49 (including Friday preview at 2pm), Week Nights – $62, Wed. & Sat. Matinees/Sat. Eve. – $74; Sun. Night – $60. Seniors, Students, Military & Educators – $5 off admission. Call 858-481-1055, or visit www.northcoastrep.org to purchase tickets.
BIOS:
PAUL SLADE SMITH (Playwright) is a writer and actor based in Brooklyn, New York. As an actor, his credits include the original Broadway casts of Finding Neverland, Charlie and The Chocolate Factory, and the Lincoln Center revival of My Fair Lady. Following its Broadway run, Paul starred as Willy Wonka in the Australian premiere of Charlie… His next onstage role: Ebenezer Scrooge in A Christmas Carol at Alabama Shakespeare Festival. Paul was thrilled to be commissioned by David Ellenstein and North Coast Repertory to create The Angel Next Door, and is equally thrilled to witness its world premiere here. Paul's play Unnecessary Farce, produced at North Coast Rep in 2015, has had over 325 productions throughout the United States, and in Great Britain, Australia, Singapore, Japan, Austria (in German), Switzerland (in Swiss German), Iceland (in Icelandic), and Canada (in both English and French). The Outsider, seen on this stage in 2020, will have its 90th production later this year. Paul would like to thank Ferenc Molnár for the plot at the center of this play, and theatre artists and audiences – like yourselves – in whose loving honor this adaptation was written. And lastly, as always, he thanks Erin, who is his Margot and also, naturally, his Olga.
DAVID ELLENSTEIN (Director) Born into a theatrical family, David is an actor, director, producer, and playwright. Before joining North Coast Rep in 2003 as Artistic Director, he served in that position for the Los Angeles Repertory Company and the Arizona Jewish Theatre Company (AJTC). He is a veteran of over 300 theatrical productions at theatres from San Diego to Maine, and from Alaska to Miami and most places in between. David has won numerous theatre awards, including the San Diego Theatre Critics Circle Award for "2018 Director of the Year." David has also appeared in dozens of film and television roles, as well as having been guest faculty for numerous universities including California State University Northridge, Cal Arts, and Shakespeare workshops privately. He is now the Artistic Director of Laguna Playhouse as well as continuing to be the Artistic Director of North Coast Rep.
THOMAS EDWARD DAUGHERTY* (Victor Pratt) is thrilled to make his North Coast Repertory Theatre debut. San Diego Theatre: Quinn Carney in The Ferryman at New Village Arts Theatre. Other theatre: National Tours (Ragtime, Showboat); Kennedy Center (Bounce); Goodman Theatre (All's Well That Ends Well, Bounce); Chicago Shakespeare (As You Like It, Winter's Tale, Troilus & Cressida); Drury Lane Oakbrook (1776, The Foreigner, A Chorus Line, Big); Marriott Lincolnshire (Houdini, the Musical); Apple Tree Theatre (Old Wicked Songs, The Dying Gaul); New American Theatre (Picasso at Lapin Agile); Montana's Shakespeare in the Parks (Macbeth, The Country Wife). Training: BFA Musical Theatre, University of Michigan–Go Blue! Tom's day job: Employment law attorney at Klinedinst PC. Much love and many thanks to Jacquelyn Ritz (a North Coast Rep regular), Nick, Zach, and Caroline for making this possible.
ERIN NOEL GRENNAN* (Olga Molnar) is grateful to make her North Coast Rep debut. Regional credits include: Reckless and Incident at Our Lady of Perpetual Help at Cincinnati Playhouse; The Outsider (world premiere) at Paper Mill Playhouse; Unnecessary Farce (world premiere), and Wit at Boarshead Theatre; Timon of Athens at Chicago Shakespeare Theatre; A Moon for the Misbegotten, Blithe Spirit, The Taming of the Shrew at First Folio; A Christmas Carol at Geva; A Flea in Her Ear, The Foreigner, The Man Who Came to Dinner at Drury Lane; Noises Off at Totem Pole Playhouse; seven seasons with Peninsula Players Theatre, including Angel Street, Sunday in the Park with George, The Game's Afoot, the world premieres of Making God Laugh and The Tin Woman; and four productions with The Gaiety Theatre in Ireland. TV credits include "The Other Two," "Dr. Death,," "Bull," "Law & Order: SVU," "Blue Bloods," "FBI: Most Wanted," "Chicago Med," "Chicago Fire," and roughly umpteen commercials. erinnoelgrennan.com.
ELINOR GUNN* (Margot Bell) is honored to make her North Coast Repertory debut. Notably, she has worked with Sir Alan Ayckbourn in the American premiere of Sugar Daddies at ACT Theatre in Seattle, and Paula Vogel in the inaugural Hearst Theater Lab Initiative Distinguished Visiting Playwright-in-Residence at UCLA. She just recently closed a sold-out run of The Tempest as Ariel at Antaeus Theatre in LA. Favorite roles include Kyra in Skylight at ACT, Michelle in For the Love Of at the Kirk Douglas, and Raina in Arms and the Man at The Jewel Theatre. Her most recent television credits include guest starring on "9-1-1" (Fox) and "Legacies" (CW), co-starring on "The Dropout" and "Bust Down," and appearing in several national commercials.
TAUBERT NADALINI* (Oliver Adams) is a Los Angeles and New York- based actor, director, and composer. TV: "This is Us" (NBC), "Sterling" (HBO), "Deviants" (Showtime). Stage: Vanya and Sonia and Masha and Spike (Pacific Resident Theatre), Mamma Mia! (McCoy-Rigby), The Lion in Winter (Laguna Playhouse), Bright Star (Musical Theatre West), Frozen (Disneyland), Evita (Palos Verdes Performing Arts), Shooting Star! (Hudson Theatre), Bronco Billy (Skylight Theatre). He recently received a Robby Award for Best Actor in a Comedy for his performance in The Legend of Georgia McBride at International City Theatre, and he directed Cock as the opening play of The Los Angeles LGBT Center's inaugural theatre season. Taubert trained at The Royal Academy of Dramatic Art and USC. He's represented by Dennis Sevier at The House of Reps and Heidi Rotbart Management. He also has a Boston terrier and three younger brothers, who collectively serve as his comedic inspiration.
JAMES NEWCOMB* (Arthur Sanders) North Coast Rep: The Homecoming, Christmas Carol (as told by one man who cares — Streamed), How the Other Half Loves. The Old Globe: Da Vinci in The Note Books of Leonardo Da Vinci, Twelfth Night, Coriolanus, and Much Ado About Nothing. San Diego Rep: Honky, Zoot Suit, Brooklyn Boy, and The Illusion. Cygnet Theatre: Henry in Present Laughter, Roy Cohn in Angels in America (Craig Noel award). Other Theatre: Oregon Shakespeare Festival (14 Seasons), Denver Center Theatre (9 Seasons), The Public Theatre, B.A.M. Utah Shakespeare Theatre, Shakespeare & Company (founding member), The Goodman, Chicago Shakespeare, Berkeley Rep, South Coast Rep, Portland Center Stage, Missouri Rep, Arizona Theatre Co., and Geva Theatre. Representative Roles: Oxford Society Award for Richard III (O.S.F.), Drama Log Award for Touchstone, (S.S.C.), Coriolanus, Iago, Bottom, Feste, and The Duke in Measure for Measure. T.V.: "The Hand That Rocks the Cradle," "Honky" (P.B.S.), and "I Want to Keep My Baby" (CBS). Film: "Lone Wolf." Directing: Much Ado, Midsummer (USD Graduate Program), Lone Star, True West, and Found a Peanut (National Theatre Conservatory). Continuing Lecturer: U.C.S.D. Graduate Theatre Program.
BARBARA E. ROBERTSON* (Charlotte Sanders) is very happy to be making her North Coast Rep debut, and working again with Paul Slade Smith (Wicked) and Erin Noel Grennan (The Last Night of Ballyhoo). She can be seen in "Somebody Somewhere"; "Working Man"; "LOL," "Freelancers Anonymous," Robert Altman's "The Company" and David Lynch's "The Straight Story." She's received two dozen awards and nominations for her work in theatre productions as diverse as: Queen of the Mist (Firebrand); A Doll's House Part Two (Steppenwolf); Murder on the Orient Express (Milwaukee Rep); The Detective's Wife (Writers'); Who's Afraid of Virginia Woolf? (Court); life sucks. (Lookingglass); A Little Night Music; The Tempest; Hamlet (Chicago Shakespeare); The Goat, Or Who is Sylvia; Pal Joey, House, Garden and Hollywood Arms (Goodman); Kabuki Medea (Kennedy Center); Other Than Honorable (Geva); and the first National Tour of Angels in America I & II. She's a proud member of AEA, SAG/AFTRA and teacher at Columbia College.
NOELLE CALIGURI (Margot u/s / Assistant to Director) is beyond delighted to support the talented cast and crew of The Angel Next Door. She most recently won a 2023 ACT Award, appearing as Susan in Company at Coronado Playhouse. A few of her most cherished roles on stage include Emily Webb in Our Town and Millie in Thoroughly Modern Millie. When Noelle isn't performing, she's freelance writing, globetrotting, or indulging in a romance novel. Noelle would like to extend a special thanks to her husband, fur baby, acting coaches, mentors, and family for their endless support.
VERNON WILLET* (Production Stage Manager) is returning to North Coast Rep after having helmed one of the most successful productions to date, Murder on the Links, written and directed by Steven Dietz. Vernon's work encompasses many of the Southern California theatres: the Laguna Playhouse, McCoy/Rigby Entertainment, Musical Theatre West, 3D Theatricals, the Rubicon Theatre, San Diego Musical Theatre, Theatre Aspen, Maltz Jupiter Theatre and a myriad of others. He shares his life with director/choreographer/ champion ballroom dancer Cate Caplin. Actors' Equity Association member since 1983.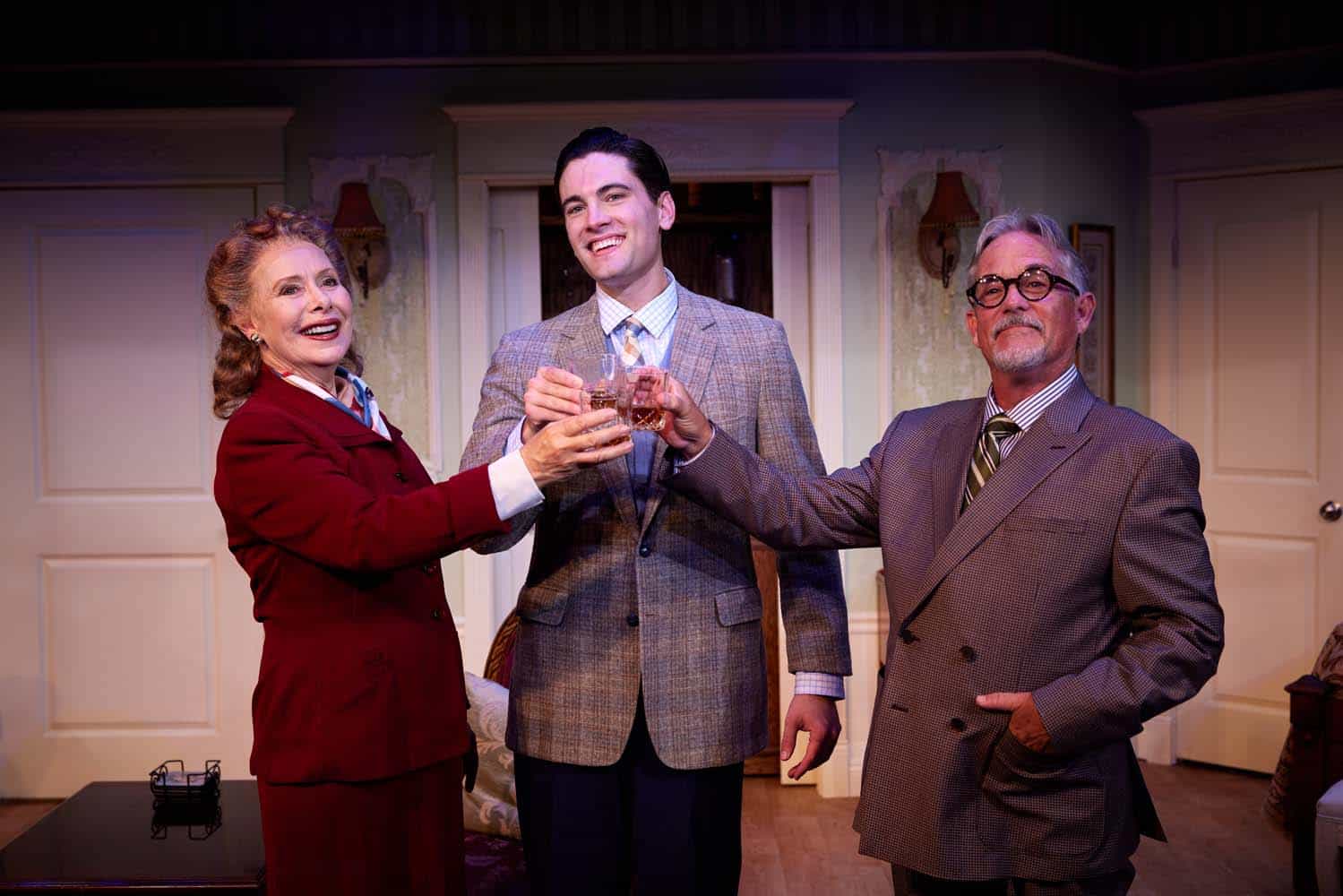 Barbara E. Robertson, Taubert Nadalini, & James Newcomb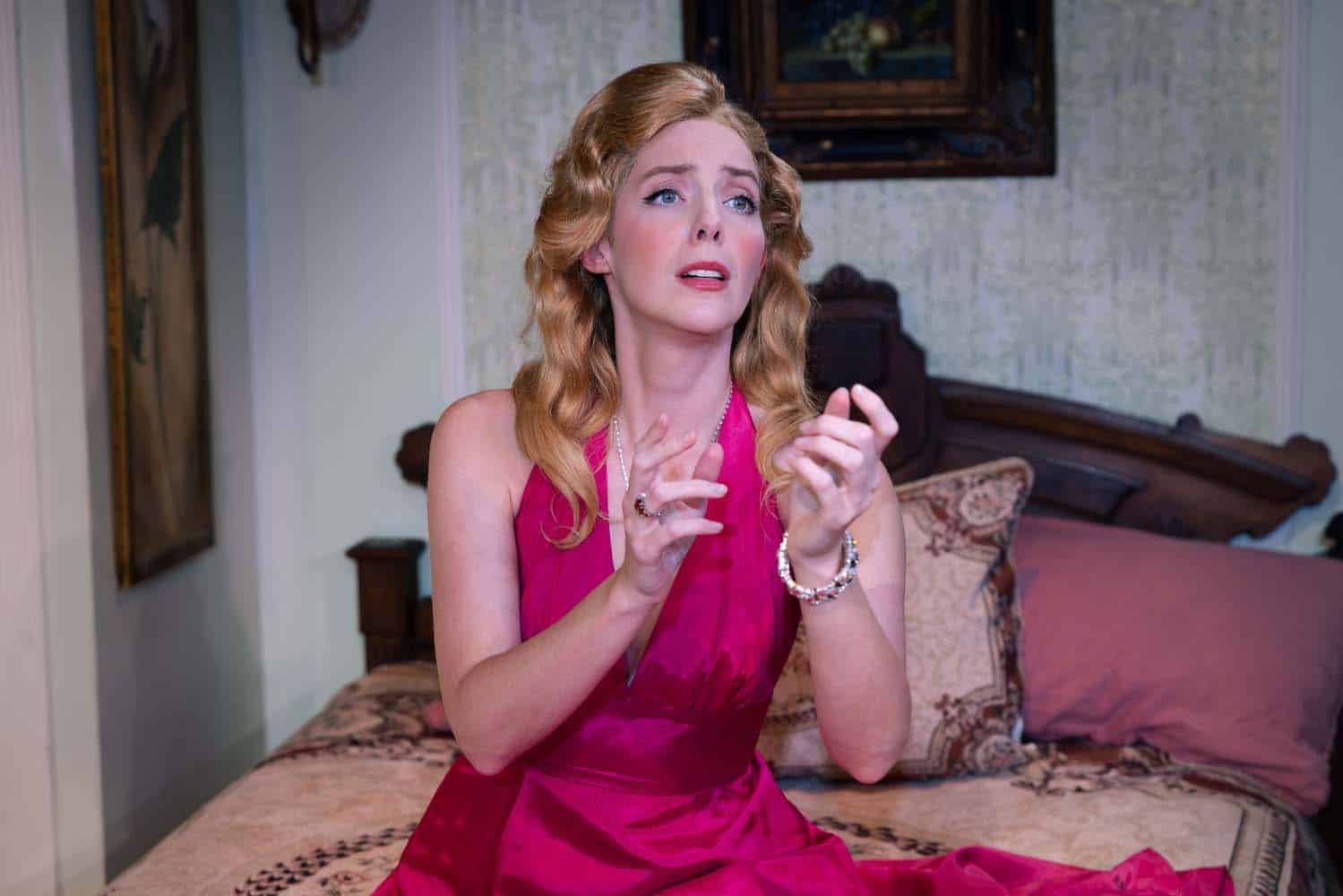 Elinor Gunn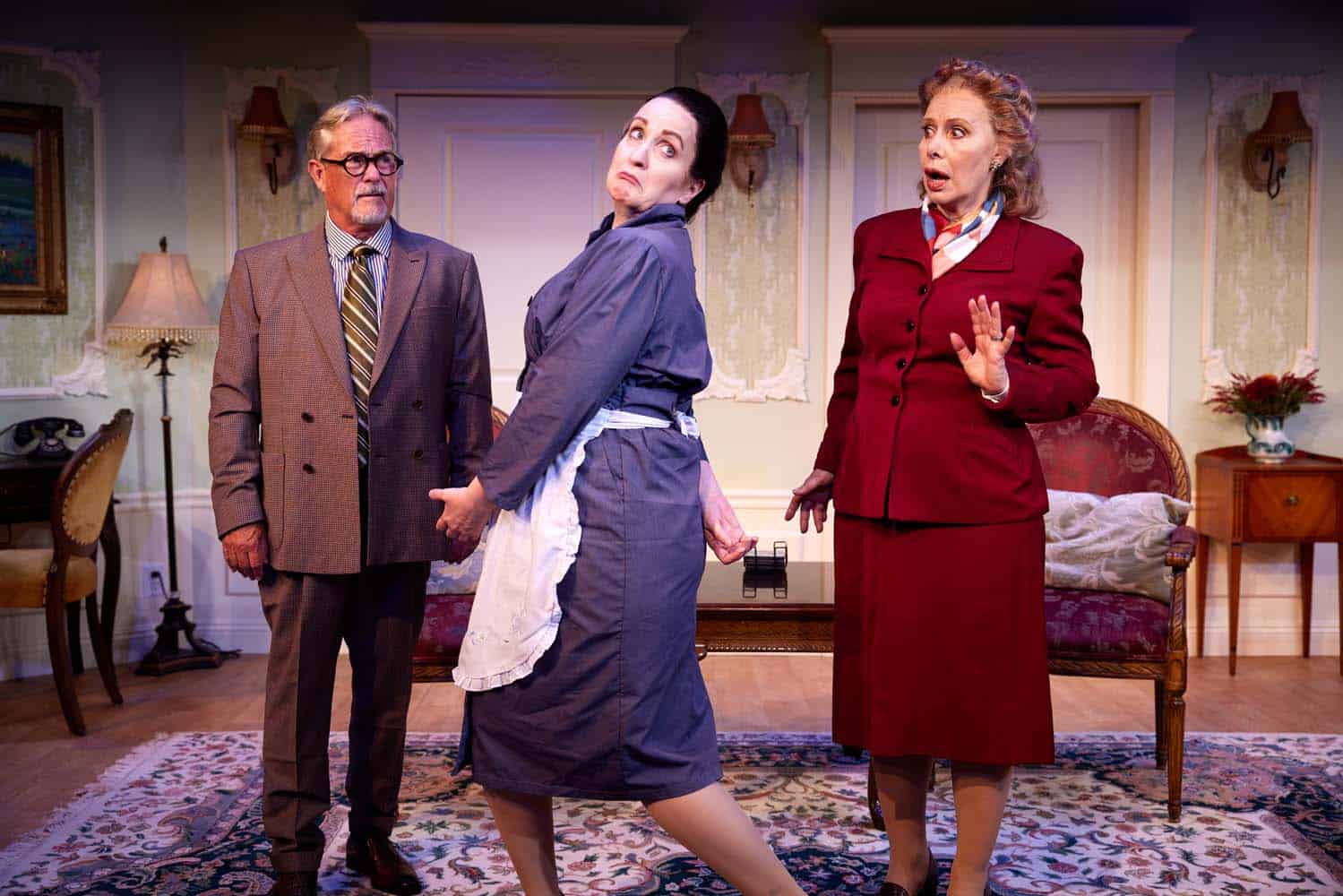 James Newcomb, Erin Noel Grennan, Barbara E. Robertson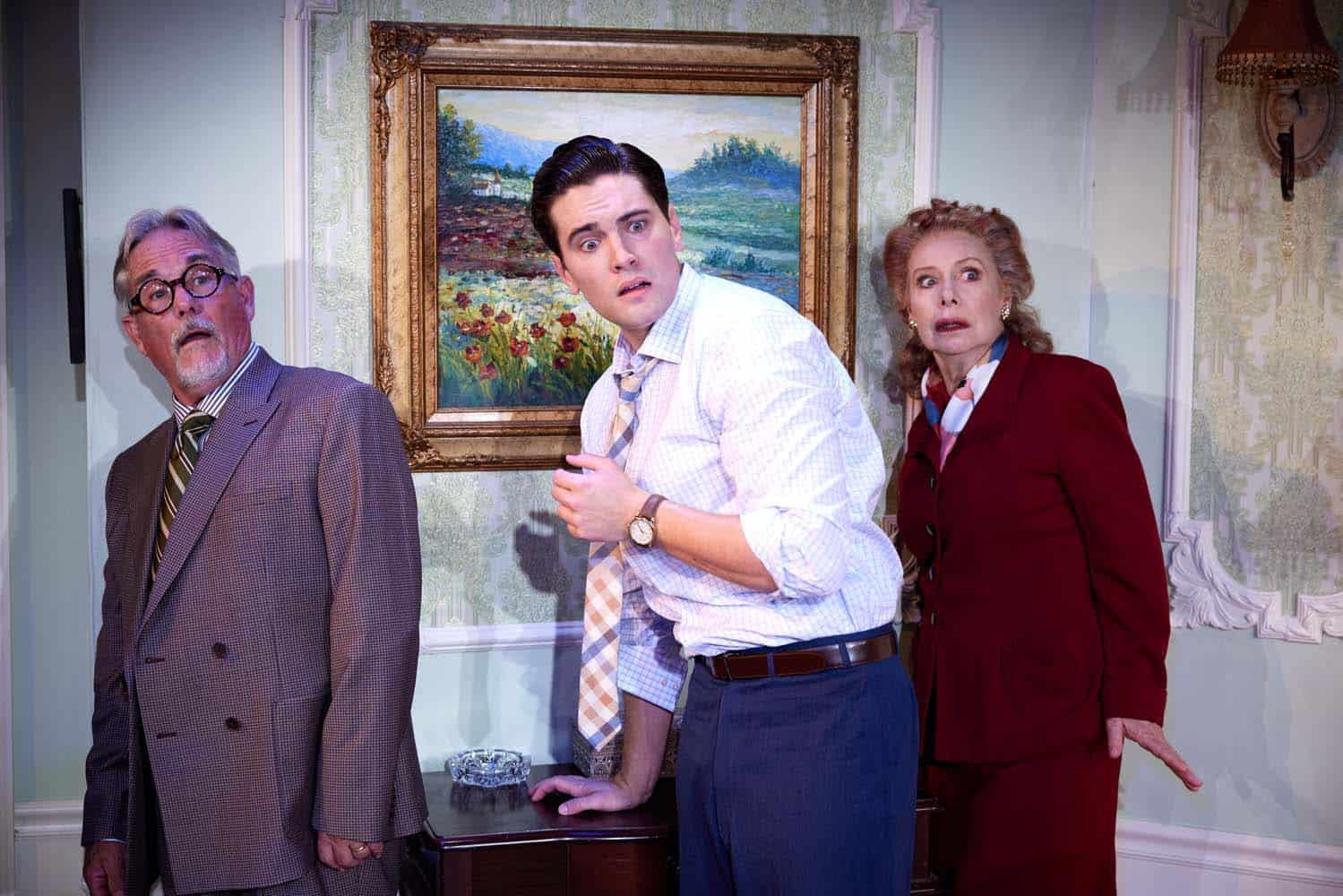 James Newcomb, Taubert Nadalini & Barbara E. Robertson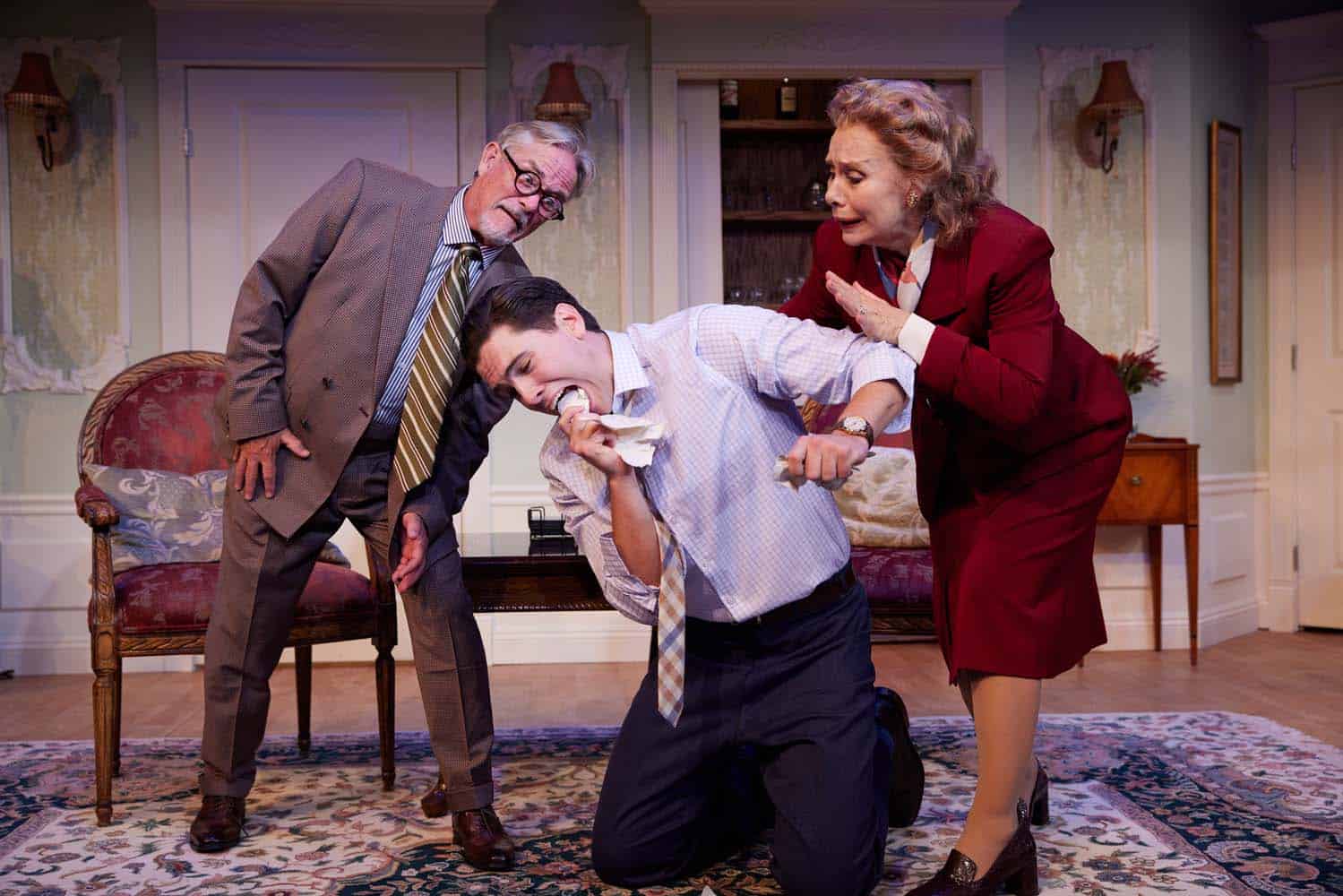 James Newcomb, Taubert Nadalini & Barbara E. Robertson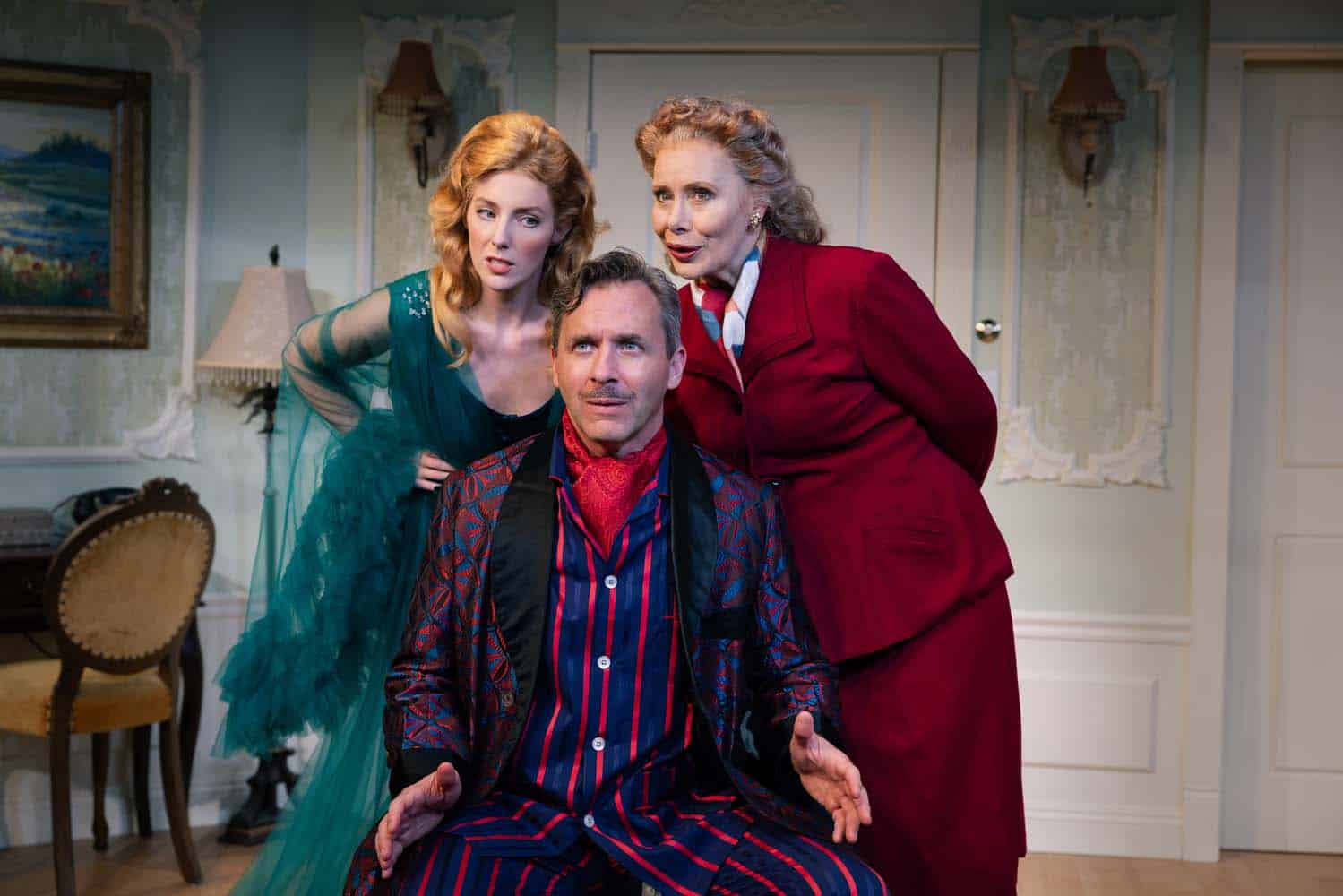 Elinor Gunn, Thomas Edward Daugherty, and Barbara E. Robertson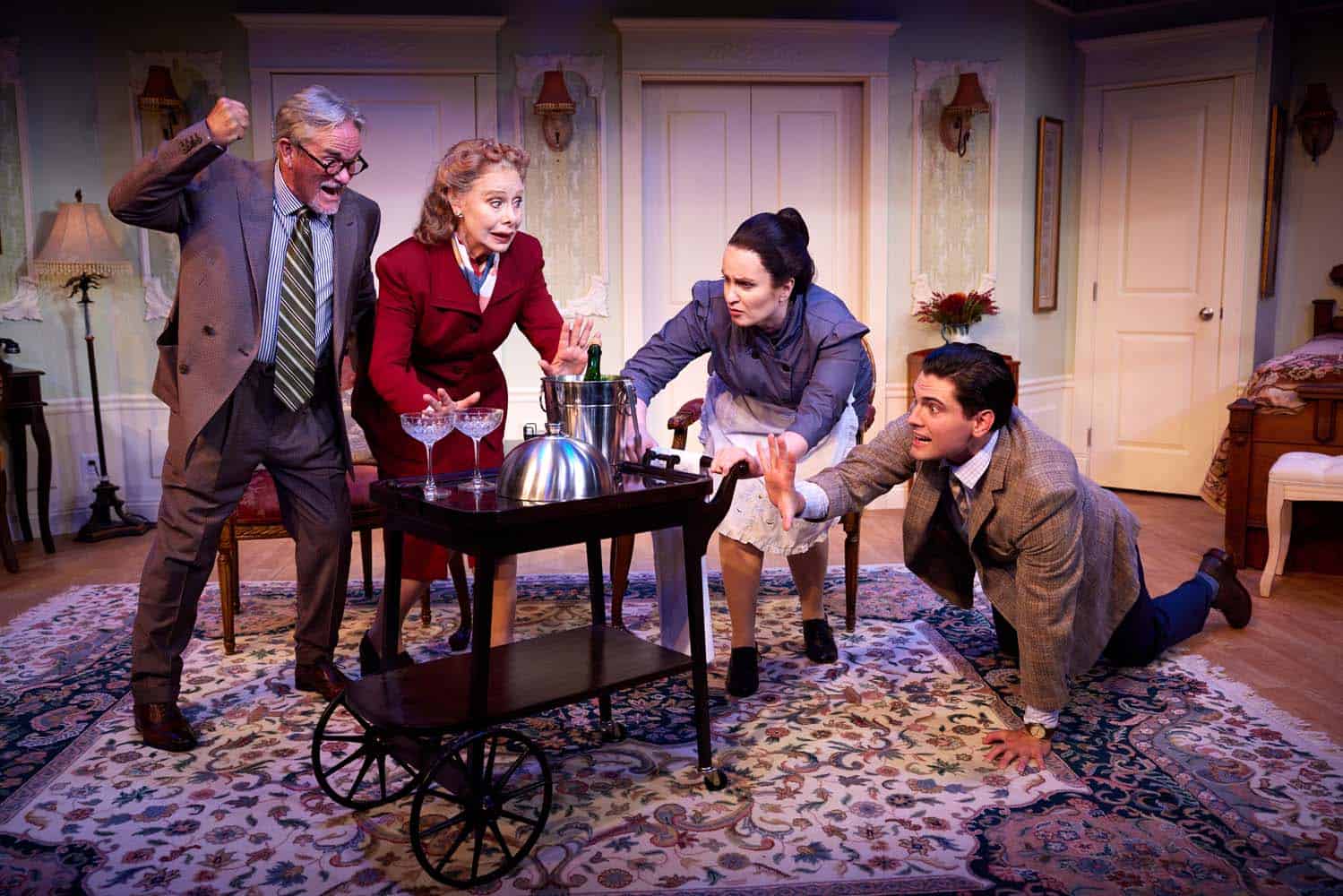 James Newcomb, Barbara E. Robertson, Erin Noel Grennan, and Taubert Nadalini
Thomas Edward Daugherty & Elinor Gunn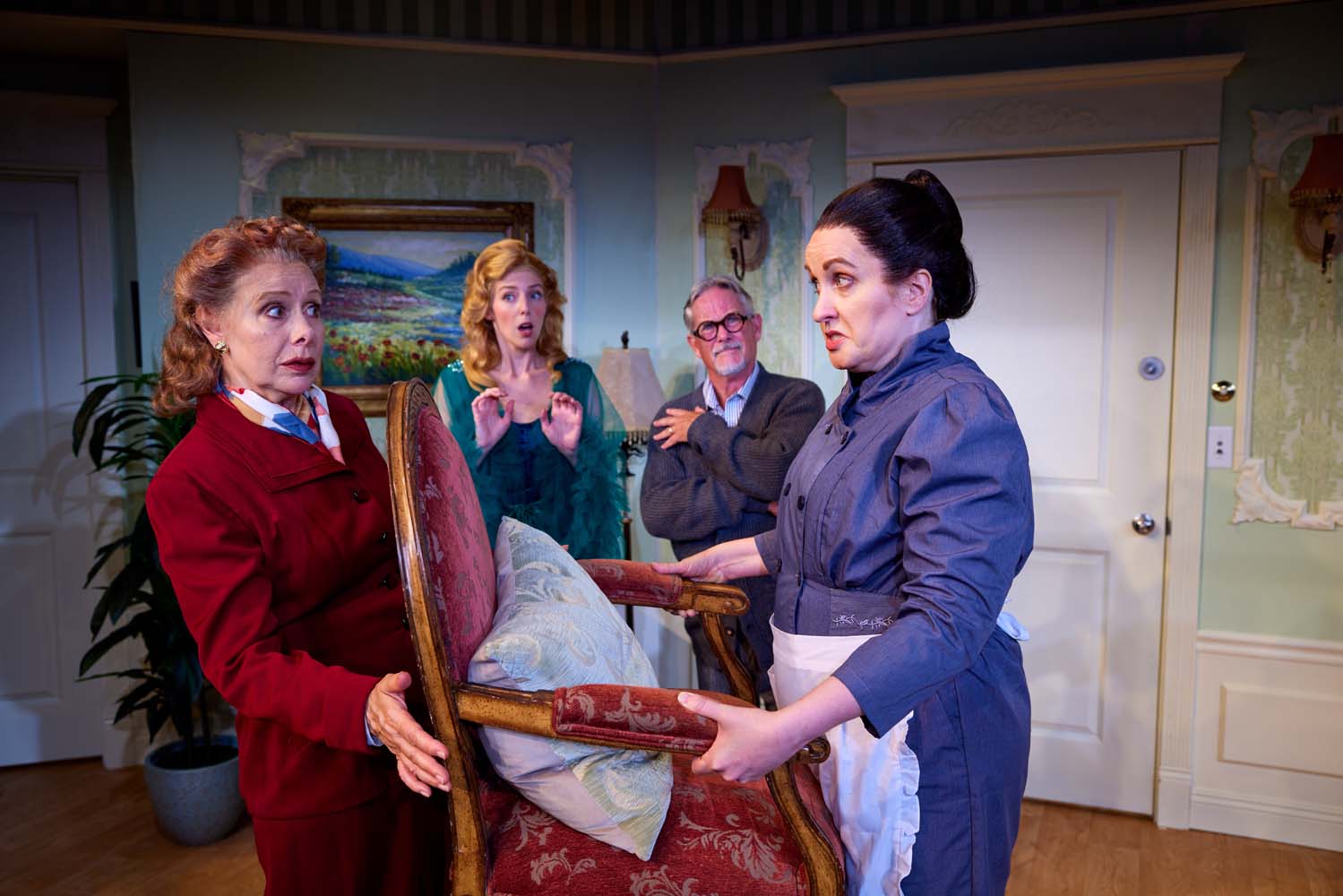 Front (L-R): Barbara E. Robertson & Erin Noel Grennan; Back: Elinor Gunn & James Newcomb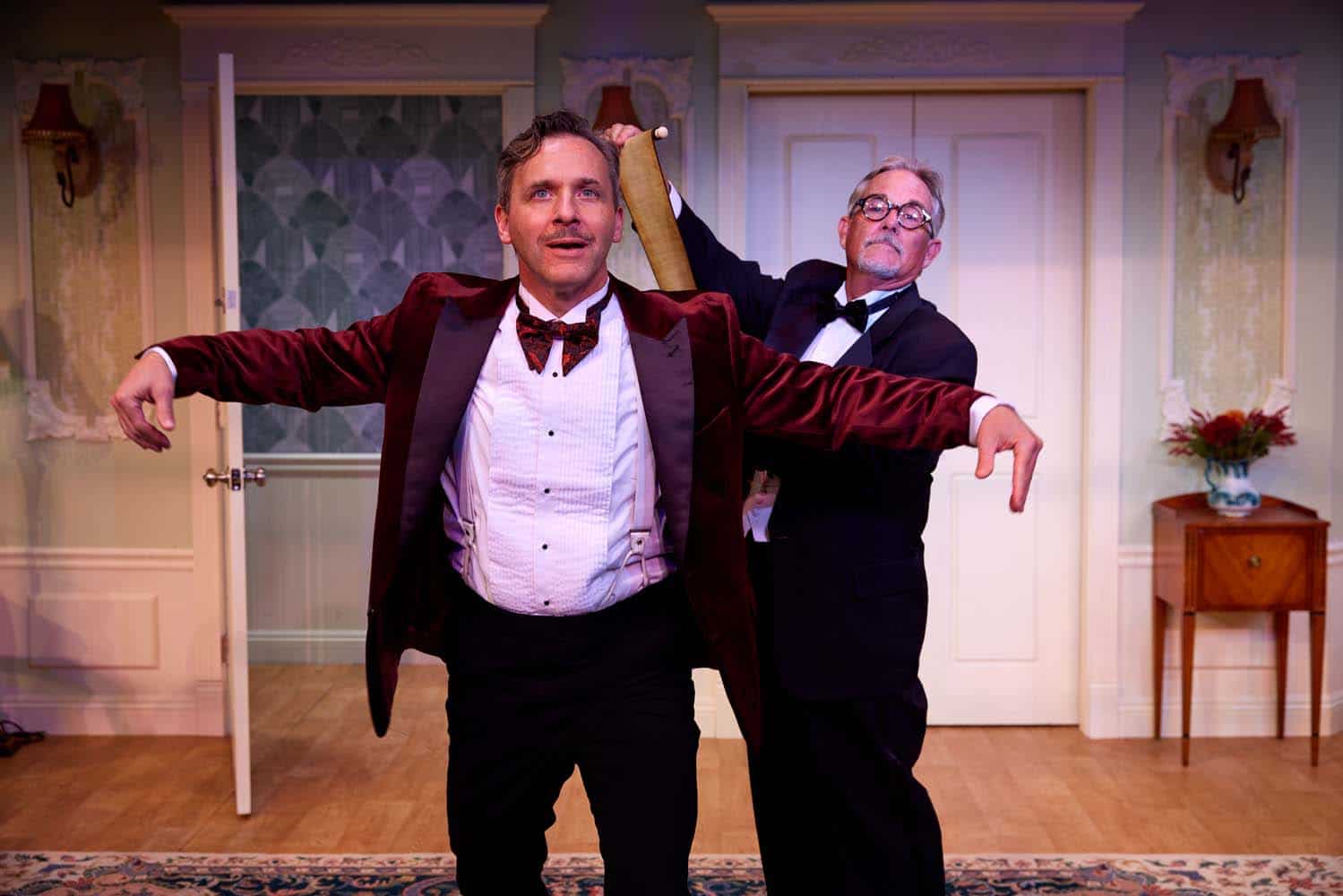 Thomas Edward Daugherty & James Newcomb
*Photos by Aaron Rumley