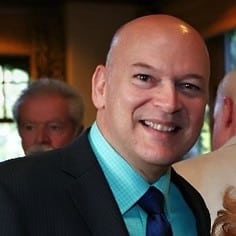 Bill originally from Valparaiso, Indiana, brings over twenty years of finance, marketing, and sales experience to North Coast Repertory Theatre, including sixteen seasons as the Director of Administration at the legendary Coconut Grove Playhouse, in Miami. During the time Mr. Kerlin served at Coconut Grove, it was the largest professional not-for-profit producing theatre in the State of Florida.
Prior to joining the Playhouse in 1988, Mr. Kerlin worked as a Senior Training Specialist at Interval International in Miami. His background includes stints in direct mail advertising for Advo Systems and market research for RJ Reynolds. Mr. Kerlin graduated Magna Cum Laude with a Bachelor's of Business Administration from the University of Miami in 1984. While he completed his Master's of Science from Florida International University, he concurrently taught classes at Miami-Dade College and worked full-time.
Most recently, Mr. Kerlin was the Chief Financial Officer for Professionals' Retirement Strategy, a national insurance and retirement planning service firm. Bill also served as a Board Member for Camposition, a performing arts company whose mission is to push the boundary between contemporary performance and activism through live performance, interactive outreach programs, and professional development trainings. Through unique performance interventions, Camposition's artists crash through life, performing in unexpected places and situations.