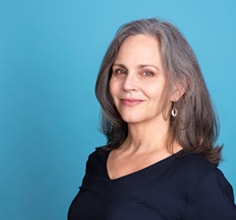 Denise has always been drawn to mission-driven organizations and creatives. While she has been involved with North Coast Repertory Theatre for nearly 20 years, it was only recently that she became part of our staff first as the Donor Relations and Events Manager and now as our Director of Development. She is thrilled to be part of the team at North Coast Rep, bringing world-class theatre to North County and feel privileged to be interacting with our patrons every day.
Previously, Denise worked in the entertainment and communications industries for more than three decades. For the past 20 years she was the owner of DMY Studio, a website design and development business specializing in custom websites with a strategic eye towards digital marketing for small businesses, nonprofits, and arts organizations. And before that, in what she would consider a previous life, she was an actor and worked in various aspects of the film industry, including segment producer, stop motion camera operator, model maker, and production coordinator.
She is happily married to David Ellenstein and they have two beautiful boys, Jamie and Will.
You can read a little bit more about her here: "20 Things About Me."