FOR IMMEDIATE RELEASE
Blues in the Night
Conceived & Originally Directed by Sheldon Epps
Directed by Yvette Freeman Hartley
From: Nancy Richards
nancy@northcoastrep.org
Office: 858-481-1055 ext.
Download Release
Download Photos
BLUES IN THE NIGHT LENDS DYNAMIC START TO THE NEW YEAR
AT NORTH COAST REPERTORY THEATRE
Conceived and Originally Directed by Sheldon Epps
Original Vocal Arrangements & Musical Direction by Chapman Roberts
Orchestrations & Additional Vocal Arrangements by Sy Johnson
Performances Beginning Wednesday, January 11, 2023
Now Extended Through Sunday, February 12, 2023
Directed by Yvette Freeman Hartley
Solana Beach, CA – According to the legendary Billie Holliday, "Blues is to jazz what yeast is to bread." With 26 glorious, hot, torchy songs fueling BLUES IN THE NIGHT, a powerful cast of singers plumb the innermost reaches of their hearts, sharing the heartbreak and humor of life and the indomitable will to do more than survive. Among the offerings are such favorites as "Stompin' at the Savoy," "Nobody Knows You When You're Down and Out," and "Wasted Life Blues." This rich musical experience promises to thrill and delight both novice and die-hard jazz fans alike, so reserve your seats now.
Yvette Freeman Hartley directs Karole Foreman,* Anise Ritchie,* Elijah Rock,* and Ciarra Stroud in BLUES IN THE NIGHT. Lanny Hartley is the Musical Director; Roxane Carrasco, Choreographer. Musicians include Kevin Toney, Roy Jenkins, Danny King, Malcolm Jones, and Thomas Alforque. The revue was conceived and originally directed by Sheldon Epps; original vocal arrangements and musical direction by Chapman Roberts, and orchestrations and additional vocal arrangements by Sy Johnson. Design team includes Marty Burnett (Set Design), Matthew Novotny (Lighting), Regan A. McKay (Costume Design), Matt FitzGerald (Sound), Chris Williams (Prop Design) and Stage Manager Cindy Rumley.
*The actor or stage manager appears through the courtesy of Actors' Equity Association.
BLUES IN THE NIGHT previews begin Wednesday, January 11. Opening Night on Saturday, January 14, at 8pm. It will play Wednesdays at 7pm, Thursdays through Saturdays at 8pm, Saturday and Sunday matinees at 2pm with Sundays at 7pm through February 12. A performance has just been added on Wednesday, February 1 at 2 pm. (See Schedule below). North Coast Repertory Theatre is located at 987 Lomas Santa Fe Drive, Solana Beach, CA 92075. Tickets: Previews – $57 (including Friday preview at 2pm), Week Nights/Wed. & Sat. Matinees – $63; Sat. Eve. & Sun. Mat. $68; Sun Night – $60. Seniors, Students, Military & Educators – $3 off admission. Call 858-481-1055, or visit www.northcoastrep.org to purchase tickets.
BIOS:
SHELDON EPPS (Conceived & Originally Directed) conceived and directed the Duke Ellington musical Play On!, which received three Tony Award nominations and was produced at Seattle Repertory Theatre and the Goodman Theatre in Chicago, where it received four Jefferson Awards including Best Musical. The Pasadena Playhouse production was taped by PBS for broadcast as part of the Great Performances series. He also conceived and directed the highly acclaimed musical revue Blues in the Night. The Broadway production was nominated for a Tony Award as Best Musical of the Year, and the London production, which he also directed, was nominated for two Laurence Olivier Awards and ran for over a year on the West End before being broadcast in Europe by Thames Television. Mr. Epps was a co-founder and the associate artistic director of the off-Broadway theater The Production Company. His directorial assignments for that company included A Midsummer Night's Dream, Incandescent Tones, and Scenes and Revelations, which he also directed on Broadway at the Circle In The Square Theatre. Mr. Epps has directed plays and musicals for many of the country's major theatres including the Guthrie, the Old Globe Theatre, Manhattan Theatre Club, Seattle Repertory Theatre, Playwrights Horizons, Crossroads Theatre, Cleveland Play House, Arizona Theatre Company, Goodspeed Opera House, Coconut Grove Playhouse, Walnut St. Theatre, George Street Playhouse, and Asolo State Theatre. For television he has directed episodes of "Frasier," "Friends," "Girlfriends," "My Wife and Kids," "Veronica's Closet," "Evening Shade," and "Sister, Sister." He currently is a member of the executive board of the Society of Stage Directors and Choreographers. Mr. Epps is a two-time recipient of the Theatre Communications Group/Pew Charitable Trust National Theatre Artists Residency Grant, which supported his four-year tenure at the Old Globe Theatre as associate artistic director. Mr. Epps was pleased to join the Pasadena Playhouse as artistic director in 1997. His directing credits at this theater include Blue, Play On!, Les Liaisons Dangereuses, The Importance of Being Earnest, The Old Settler, The Real Thing, On Borrowed Time, Mr. Rickey Calls a Meeting, Blues in the Night, and he was production consultant for the musical Sisterella. He directed the world premiere of Blue at Arena Stage Theatre, which was also produced off-Broadway at the Roundabout Theatre. Following its record-breaking engagement in Pasadena, Blue began a national tour coproduced by the Pasadena Playhouse.
CHAPMAN ROBERTS (Vocal Arrangements/Musical Supervision) Broadway/West End: Hair; Hello Dolly, Jesus Christ Superstar, Don't Bother Me, I Can't Cope, Eubie, Bubblin' Brown Sugar, Blues in the Night, Porgy and Bess, Your Arm's Too Short to Box with God, Broadway Soul at Lincoln Center, Five Guys Named Moe. Off-Broadway: RACCA, Salvation, The Fantasticks. Artists: Patti LaBelle, Debbie Allen, Jennifer Holliday, Alexis Smith, Harry Belafonte, Cab Calloway, Pearl Bailey, Eartha Kitt, Della Reese, Bette Midler's Harlettes, Melba Moore, Diane Keaton, Ben Vereen, Nell Carter, Gregory Hines, Al Green, Henry Mancini, Duke Ellington Orchestra. Albums: seven original casts, Horace Silver, Lena Horne, Weather Report, B.B. King. Film debut: 1992. "Year of the Comet" with Louis Jourdan.
SY JOHNSON (Jazz Arranger and Pianist) was born in New Haven, Connecticut. Sy Johnson first performed with Charles Mingus in 1960 at the Showplace, a jazz club on West 4th St., in the band that included Booker Ervin on tenor, Ted Curson on trumpet, Dannie Richmond on drums, and Mingus on bass, and on his first night with Mingus, Eric Dolphy performed on alto, bass clarinet and flute. Johnson agreed to sit in with the band for two weeks, with the understanding that he would then be put on the payroll; at the end of the two weeks, he came into work and found himself replaced by Yusef Lateef, the multi-instrumentalist. "[Mingus] made as though he was going to walk right by me," Johnson later recalled, "and then he said to me, 'If it was up to you, and you had a choice between hiring Yusef Lateef and you, who would you hire?' And then he walked out, he figured there wasn't any answer for that. And he was quite right, as a matter of fact." In 1971, 11 years later, Mingus climbed the stairs to Emile Charlap's copying office, home to many great arrangers, and before he left, he gave Johnson Let My Children Hear Music to arrange, which featured two Mingus pieces, "Shoes of the Fisherman's Wife (Are Some Jiveass Slippers)" and "Don't Be Afraid, the Clowns Afraid Too." The album's emergence was heralded with a live concert, Mingus and Friends at Philharmonic Hall, also arranged by Johnson and released as an album. Johnson continued to work with Mingus until his death from Lou Gehrig's disease in 1979. Mingus recorded two of Johnson's compositions, "Wee" and "For Harry Carney," and nominated Johnson for a Guggenheim Award following his own in jazz composition. Johnson continued to work with Sue Mingus arranging charts for all the Mingus repertory ensembles—the Mingus Big Band, the Mingus Orchestra and the Mingus Dynasty. His other collaborations in the music world have been with Joe Williams, Frank Sinatra, Wes Montgomery, Roy Eldridge, Ben Webster, Quincy Jones, Benny Goodman, Count Basie, Mel Torme, Terry Gibbs, and Sarah Vaughan, among others. He has also worked on Broadway and in films such as "The Cotton Club" (1984). Johnson was also a jazz photographer, writer, pianist, singer, and teacher.
YVETTE FREEMAN HARTLEY (Director) born in Wilmington, Delaware, Yvette, one of seven children, developed her love of performing from her father, jazz pianist Charles Freeman. After graduating from the University of Delaware, with a major in Art and Theater, Yvette's life became the theater. Her first major performance was in the Broadway musical sensation Ain't Misbehavin', which utilized her tremendous singing voice, and led to roles on stage, on television, and in feature films. On television, Freeman played Nurse Haleh Adams on the NBC drama "ER" for the full 15 seasons. For two seasons, Yvette played Irma on "Orange is the New Black." She received her master's degree in creative writing from Southern New Hampshire University and began writing and directing for film and theater. Some of her film credits include an award-winning short film, "Remember," about the early onset of Alzheimer's disease; "The Blessing Way," and the internet series, "Wishful Things." Some of her theater directing includes: Gee's Bend, South Pacific, and Ain't Misbehavin'.
LANNY HARTLEY (Musical Director) is a pianist, conductor, and composer who studied Music Education at Indiana University. He performed with such great Jazz artists as Wes Montgomery, Lorez Alexandria, Ernie Andrews, Jon Hendricks, Lou Rawls, Linda Hopkins, and Ernestine Anderson. Lanny has also played for Pop Artists Thelma Houston, The Fifth Dimension, Joe Tex, Syreeta Wright, Al Wilson, and David Clayton Thomas. He has been the Musical Conductor/Director for such shows: as Tracks (Yolanda King); The Late Great Ladies of Blues and Jazz (Sandra Reeves); The Della Reese Musical Tour(s); and Dinah Was (New York, Los Angeles, and Williamstown). Lanny has been the musical director for Ain't Misbehavin' at North Coast Repertory Theatre and around the country.
ROXANE CARRASCO (Choreographer) as a performer, Roxane's credits include: Chicago on Broadway; International/National tours of West Side Story, A Chorus Line, Chicago; Broadway workshops; Regional Theatre productions at La Jolla Playhouse, San Diego Repertory Theatre, The Old Globe, North Coast Repertory Theatre; TV series "As the World Turns;" "Law and Order: SVU." As a Director/Choreographer, Roxane's credits include: A Chorus Line; Chicago; several plays at INTAR theatre (off-Broadway) (with Co-Director) Eduardo Machado; the film, "The Lady and the Tiger;" many musicals, plays, galas, music videos all around the world. Roxane has also assisted Tony award-winning choreographers Ann Reinking, Sergio Trujillo, as well as Oscar-winning Director Rob Marshall on various staged and filmed shows. Roxane holds an M.F.A. in Musical Theatre from SDSU and is the Theatre Department chair at the San Diego School of Creative and Performing Arts.
KAROLE FOREMAN* (Woman of the World) Theatre: Lady Day, Emerson's Bar & Grill (2019 Ovation) freeFall, ICT, Ebony Rep, PCPA; Blues in the Night (ICT/Ebony Rep); Little Night Music (SD Theatre Critics Nomination), Stupid F'ing Bird (Cygnet); Porgy & Bess, Sweeney Todd, Intimate Apparel (ETC); Fences (PCPA/ ICT, NAACP Nomination); Wedding Band (Stage Raw Nomination); Next to Normal (OCWeekly Award); Caroline or Change (PCPA); Parade, Jelly's Last Jam (Suzi Bass Award, Mark Taper/Alliance); Mamma Mia! (Vegas). TV: "The Connors," "Dahmer," "Good Trouble," "NCIS," "Brooklyn 99," "Crazy Ex," "Rebel," "Young & Restless," "Stitchers," "Rizzoli & Isles," and "Grey's Anatomy." Film: "The Banality," "I'll Be Next Door for Christmas," "42," "Rebirth," and "Buddy Solitaire." www.karoleforeman.com
ANISE RITCHIE* (Lady from the Road) is so excited to return to North Coast Rep in Blues In The Night after performing in the summer hit for Moonlight Amphitheatre in Vista, Calif., Cinderella where she played The Fairy Godmother. She has also performed in the comedy hit Nunsense at the Welk Resort in Escondido. She is also part of the National Tour Company of Menopause the Musical. Anise is one of the original cast members of Disney's production of The Hunchback of Notre Dame at The La Jolla Playhouse and Papermill Playhouse in New Jersey. She is also on the original cast recording. Appeared with Pete Townsend at the La Jolla Playhouse. Other Theatres: Moonlight Amphitheatre, Cygnet, Old Globe Theatre, Ahmanson Theatre (Los Angeles), Geffen Playhouse (Los Angeles), TheaterWorks, California Conservatory Theatre (Bay Area), Woodminster Amphitheatre, (Bay Area): Sierra Rep, Columbia Actors Repertory, North Coast Rep, Lorraine Hansberry Theatre, Portland Civic Theatre, and Oregon Shakespeare Festival. Debuted her Cabaret talk show, "Live Laugh Love," during the pandemic. Anise has toured Europe singing opera, gospel, and many styles of music. Voice at the San Diego ZOO in Africa Rocks. Proud member of Actors Equity.
ELIJAH ROCK* (Man in the Saloon) is thrilled to be back at North Coast Repertory Theatre. He was last seen as the Sheriff in Desperate Measures. Triple threat artist, Rock's award-winning stage performances include Winner of the NAACP Theater Award for Best Male Equity performer for his role as Roland Hayes in Breath and Imagination and Ovation Award Nominee for his role as the Cotton Club star Cab Calloway in the musical I Only Have Eyes for You. Other notable roles include Porgy in Porgy and Bess with the Ensemble Theatre and The Crooner in Words by Ira Gershwin with the Colony Theatre directed by David Ellenstein. Rock also had TV appearances in Showtime's series "Masters of Sex." Recently, Rock has released his sophomore American Songbook album, "Matters of The Heart," which is available now. Jazz critic Scott Yanow said the following in his LA Jazz Scene review, "Rock's swinging style and large voice recall Tony Bennett, Frank Sinatra,and Nat King Cole of the 1950's without closely copying any of them." Proud member of AEA. www.elijahrock.com
CIARRA STROUD (Girl with a Date) is so excited to be making her North Coast Repertory Theatre debut! A recent graduate of the University of California, Irvine with a BFA in Music Theatre, some of her past credits include Eve in The Apple Tree (Porchlight Music Theatre), The Witch in Into the Woods, (Myers Dinner Theatre) Ericka Boafo in School Girls, or, the African Mean Girls Play, (Hangar Theatre Company), Mimi in Rent (CYC), Catherine in Pippin and Armelia in Ain't Misbehavin' (Timber Lake Playhouse). Ciarra would like to give special thanks to her father and grandmothers for all their love and support, to Roy for bringing so much laughter to her life, and to her mother, who is always in her heart.
MUSICANS
KEVIN TONEY (Conductor/Pianist) is a two-time Grammy-nominated, award-winning pianist, composer, arranger, music director, and author who rose to fame as a founding member of the legendary 'The Blackbyrds.' A Howard University graduate, Kevin has recorded 12 critically acclaimed solo albums. His compositions Kings and Aphrodisiac are jazz radio classics. His major theatre credits as composer/arranger/music director include Porgy and Bess (Ensemble Theater), Ain't Misbehavin' (Sahara Hotel, Las Vegas), Sophisticated Ladies, Shout Sister, Shout (Pasadena Playhouse), Recorded In Hollywood (Kirk Douglas Theater), James Brown: Get On The Good Foot (Apollo Theater, NYC), Memphis (La Jolla Playhouse), Atlanta (Geffen Theater), Five Guys Named Moe (National Touring Company), Smokey Joe's Café (La Mirada Theater), Henry IV (Kennedy Center). Kevin has two Grammy nominations, three RIAA Gold Record awards, a California Jazz and Blues Museum's Hall of Fame Inductee, an NAACP Image Award, and a National Endowment For The Arts Fellowship Grant. www.kevintoney.com
ROY JENKINS (Bass) a veteran of over 50 musical theater productions around San Diego county, including two world premieres and a west coast premiere, he is delighted to be let out of those dank and gloomy orchestra pits to share the stage with the outstanding musicians and artists assembled.
DANNY KING (Drums) Born in Brooklyn, N.Y., began performing at the early age of 9 years old. Following high school, he went on to study music at Queens College while performing at local venues including off-Broadway theaters. Danny later joined the Marine Corps and become a member of "The Commandant's Own." The U.S. Marine Drum and Bugle Corps based out of Washington, D.C., and for more than 20 years toured with that great musical unit all across the United States and abroad. Upon retiring from the Marines and moving to San Diego, the music continued by playing for most (if not all) of San Diego theatres to include; San Diego Repertory Theatre, La Jolla Playhouse, Lambs Players Theatre, Old Town Theatre, The Common Ground Theatre Company, Moonlight Amphitheatre, the Lawrence Welk Resort Theatre, and the Avo Theatre in Vista, Calif., the Horton Grand Theatre and returning for the 5th time, North Coast Rep. This is just the short list of local playhouses Danny has had the pleasure of performing with…oops, I'm running out of time to list them all. I'm looking forward to hearing the music play.
MALCOLM JONES (Reeds) a graduate of SDSU School of Music and Dance, Malcolm Jones earned his Bachelor's of Music in Jazz performance, specializing in Jazz Saxophone in addition to woodwind doubling. Malcolm has also performed in multiple productions for various local theatres in San Diego. Today, Malcolm performs with a wide variety of musical artists across a breadth of musical styles from Jazz, pop, funk and contemporary styles to more obscure Alternative Rock, Avant Garde and Folk styles. Malcolm has had the pleasure of performing across the United States and has performed alongside renowned artist such as Ken Boothe, Jerry Harris, James Burton, Earl Thomas and Sugaray Rayford.
THOMAS ALFORQUE (Trumpet) Native San Diegan, is a seasoned jazz trumpeter, music educator, and entrepreneur. Over the past four decades, he has taught and mentored thousands of students locally and internationally, founded businesses specializing in both music and sports accessories, gear, and apparel, and hosted various music programs including his own Negro Classical Music (i.e. Jazz) radio program, where he was named one of the state's favorite DJs. Thomas has also maintained an active trumpet performance career performing alongside legends Dizzy Gillespie, Jeannie and Jimmy Cheatham, Daniel Jackson, Joe Sample, and many others including Kareem Abdul-Jabbar. He has also performed with various theater companies in such productions as Ma Rainey's Black Bottom, The Meeting, Soul Food, An American Rhythm, Storyville, and Ain't Misbehavin'. His most recent project is in studio music production, alongside his son and daughter who are both very active musicians.
CINDY RUMLEY* (Stage Manager) Recent credits as a Stage Manager at North Coast Rep include: The Remarkable Mister Holmes, Forbidden Broadway's Greatest Hits, Desperate Measures, Dancing Lessons, Another Roll of the Dice, All in the Timing, Holmes & Watson, A Funny Thing… Cindy holds an M.F.A in stage management from UC Irvine.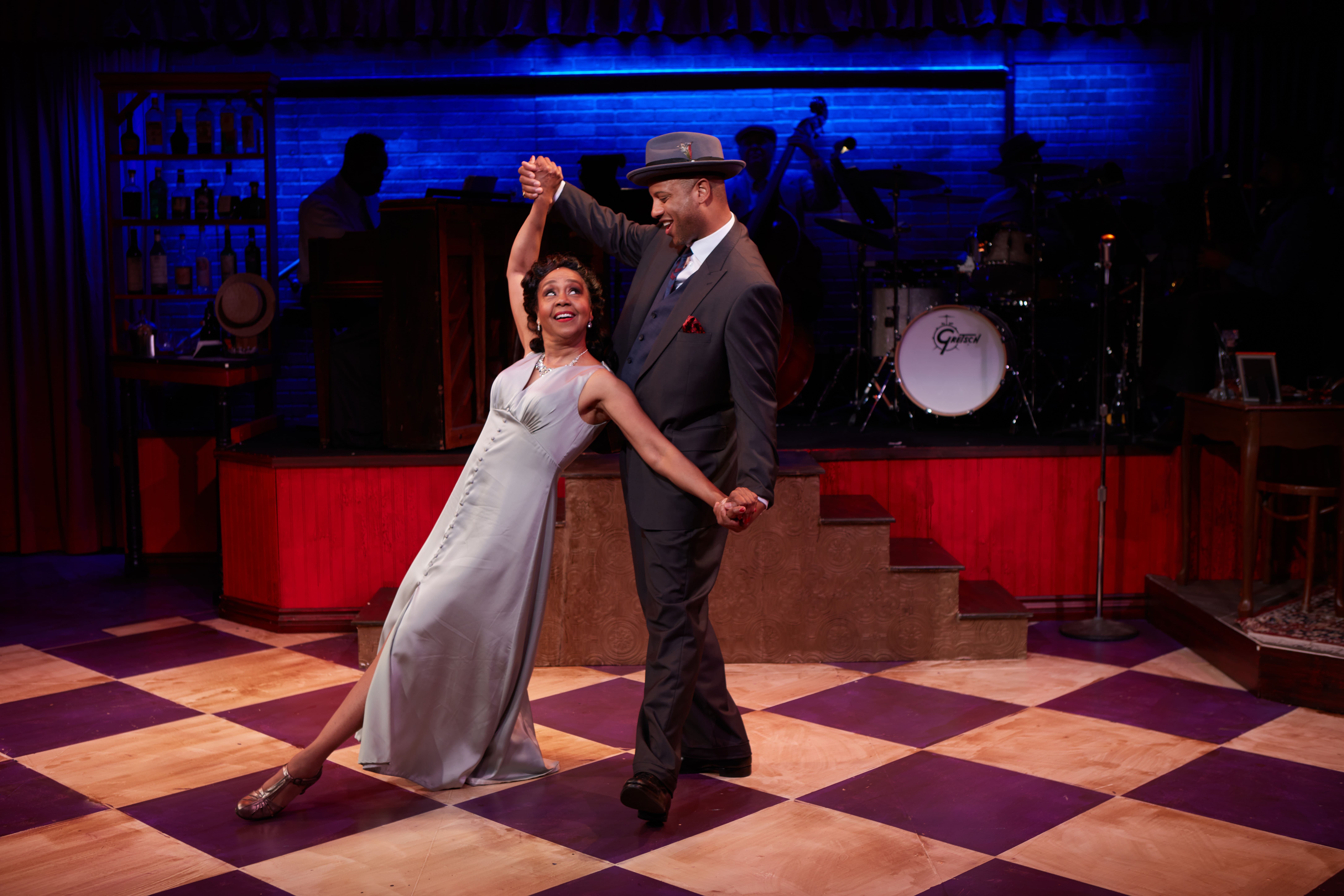 Karole Foreman & Elijah Rock - Photo by Aaron Rumley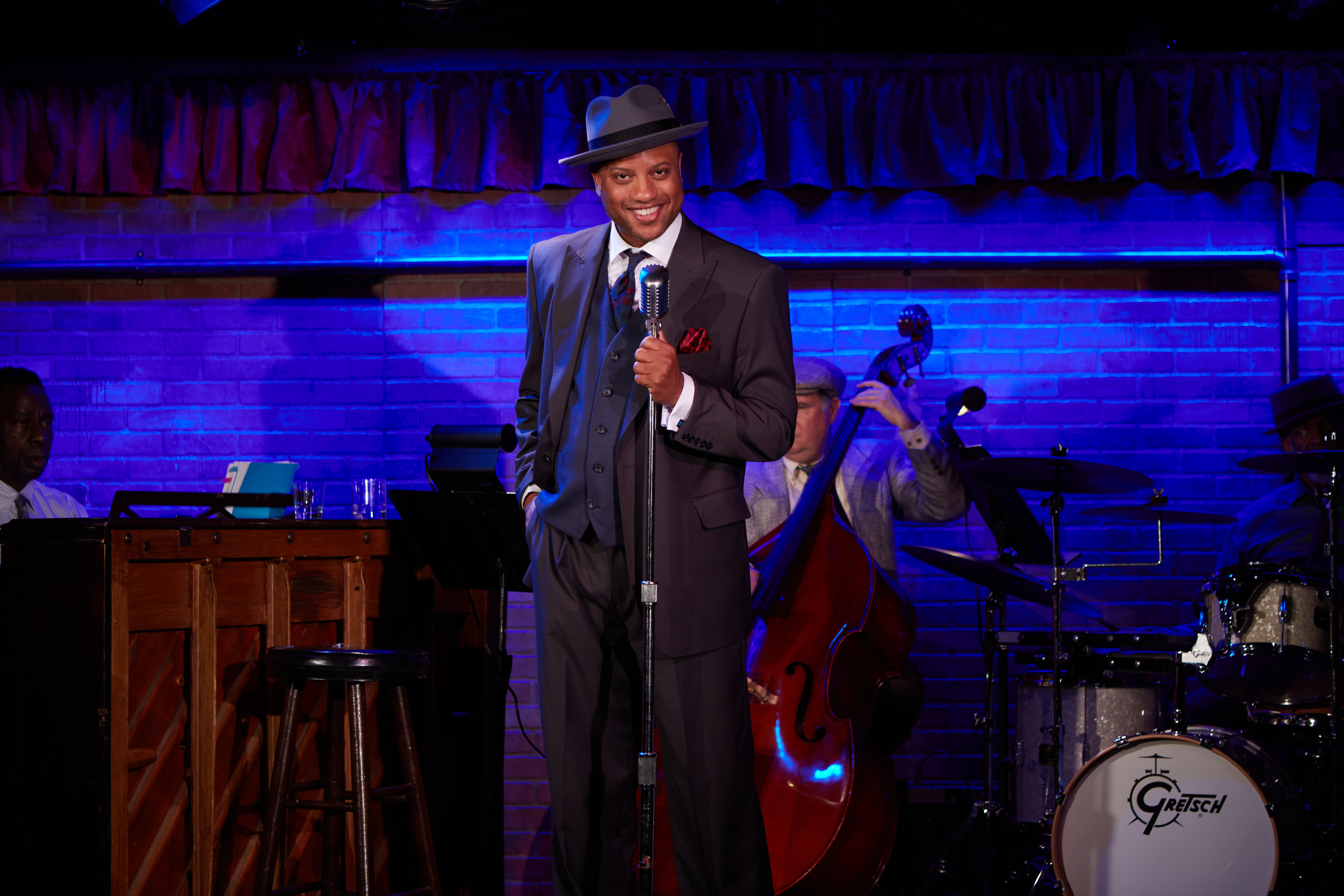 Elijah Rock - Photo by Aaron Rumley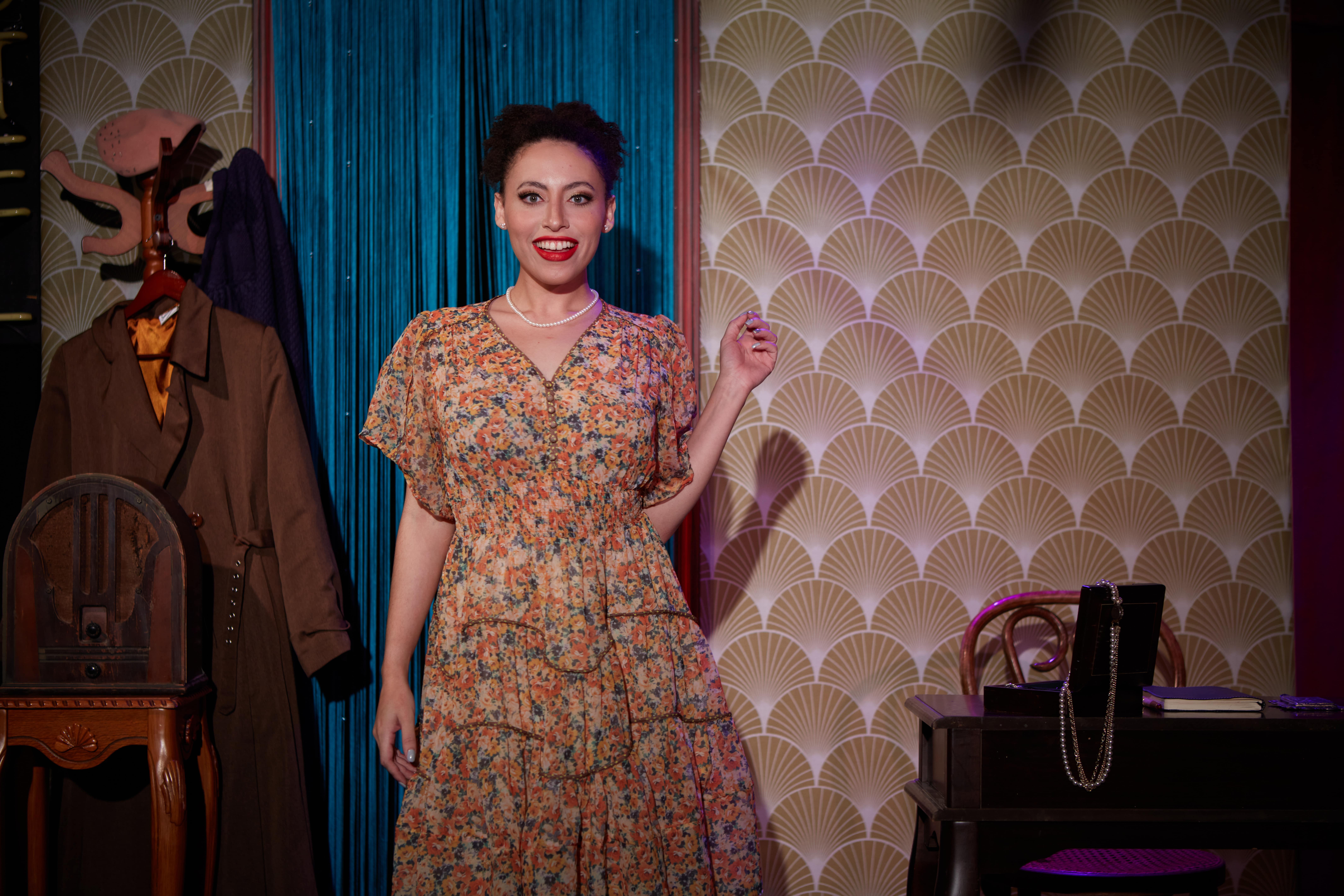 Ciarra Stroud - Photo by Aaron Rumley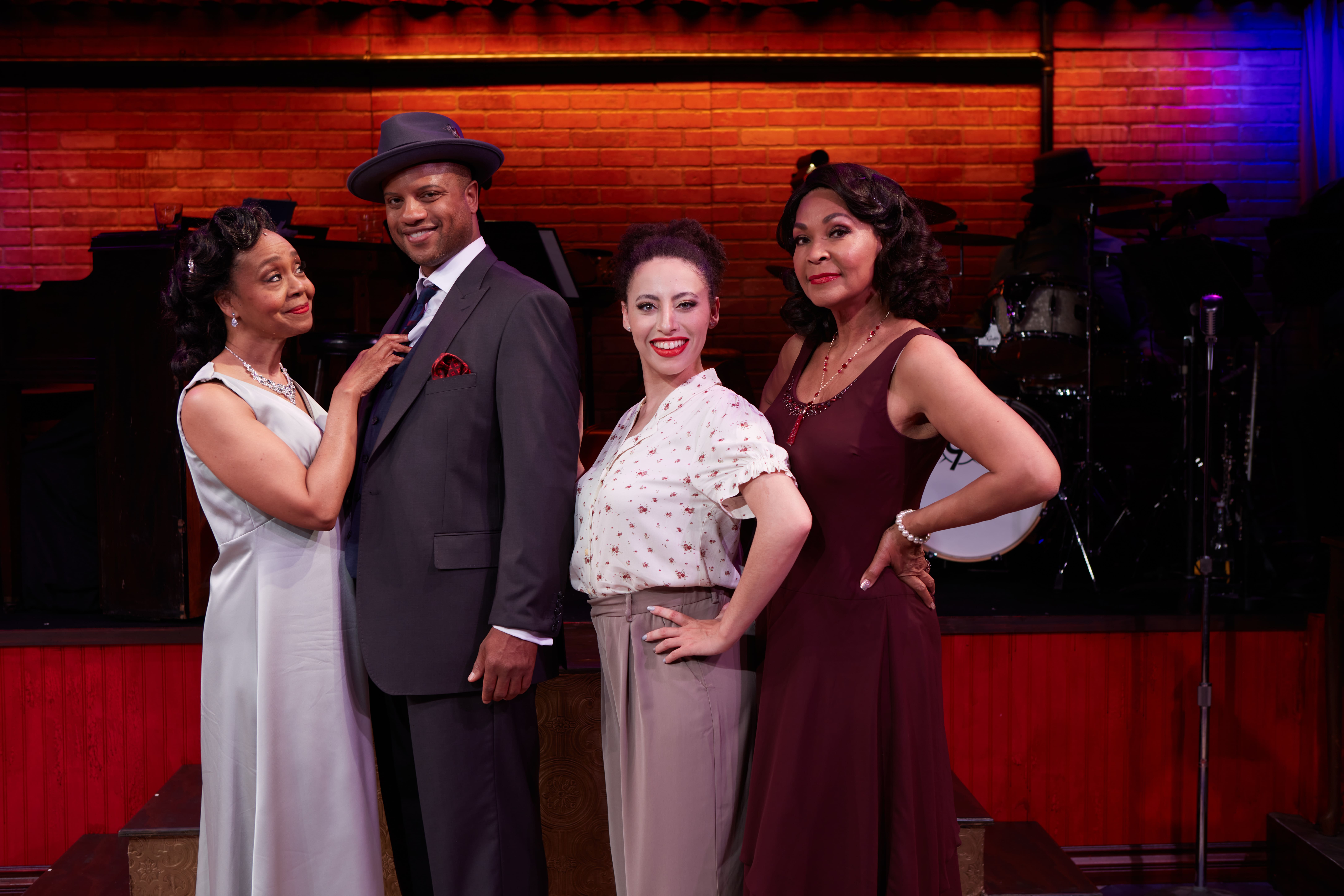 Karole Foreman, Elijah Rock, Ciarra Stroud & Anise Ritchie - Photo by Aaron Rumley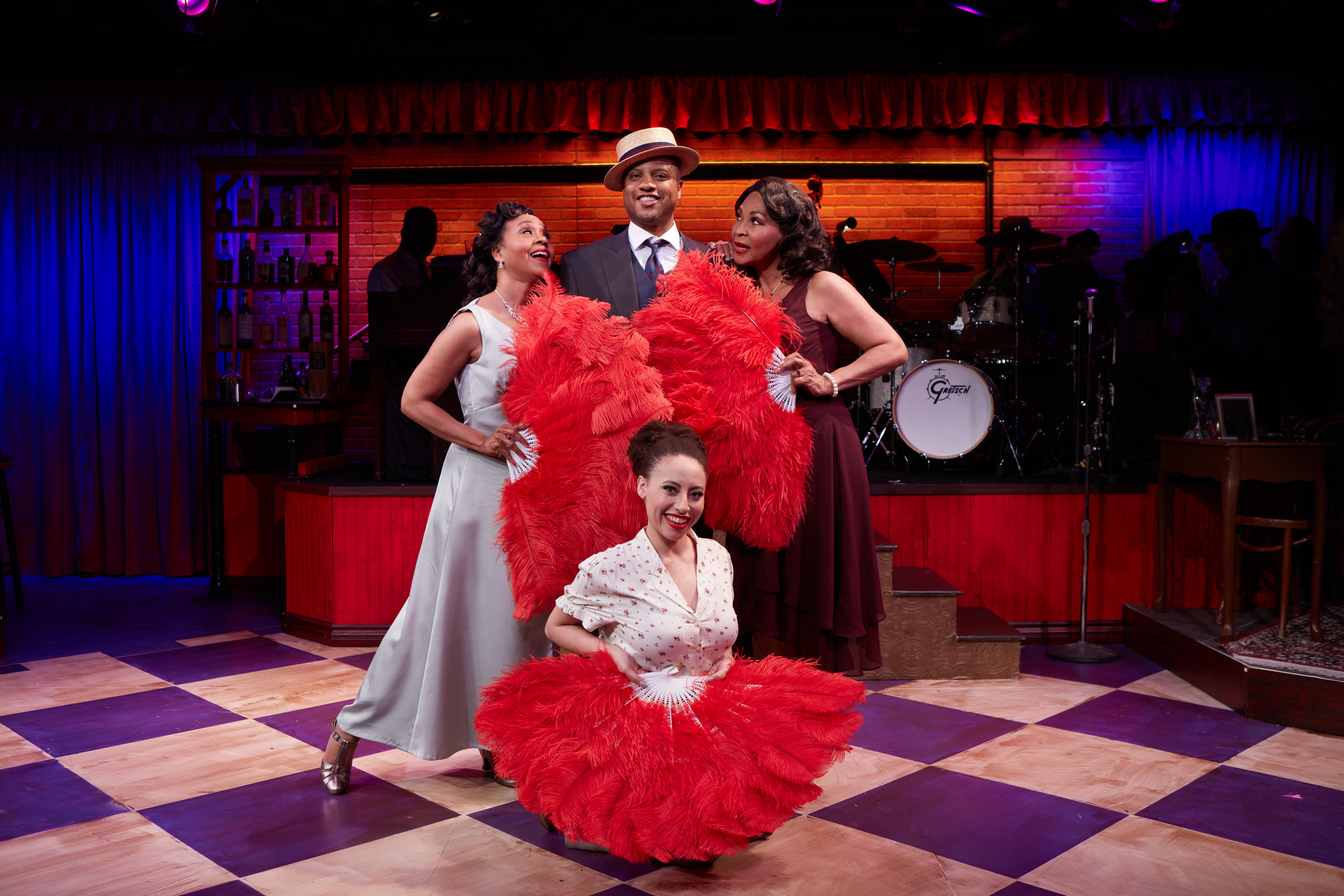 Front: Ciarra Stroud, Back: Karole Foreman, Elijah Rock & Anise Ritchie - Photo by Aaron Rumley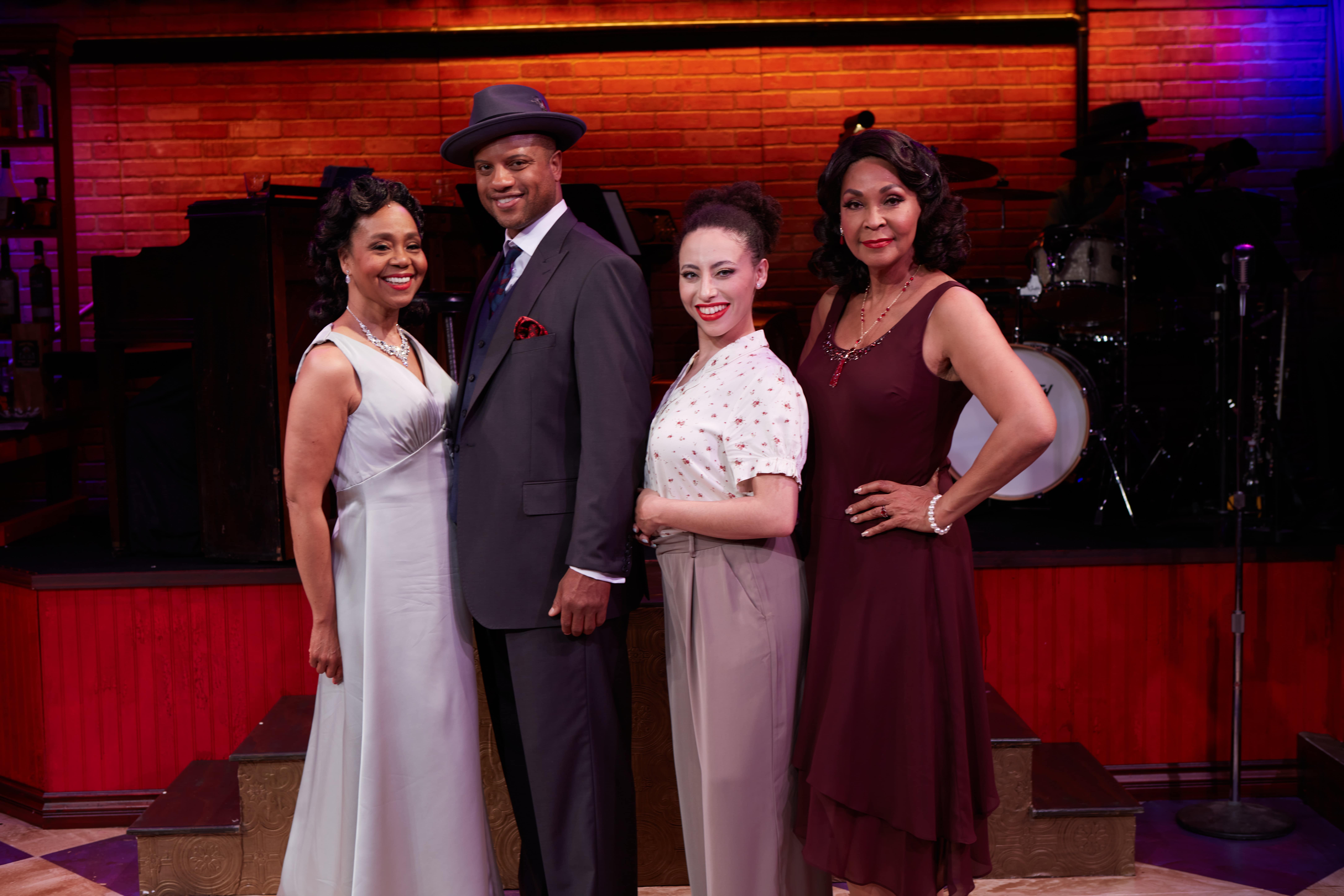 Karole Foreman, Elijah Rock, Ciarra Stroud & Anise Ritchie - Photo by Aaron Rumley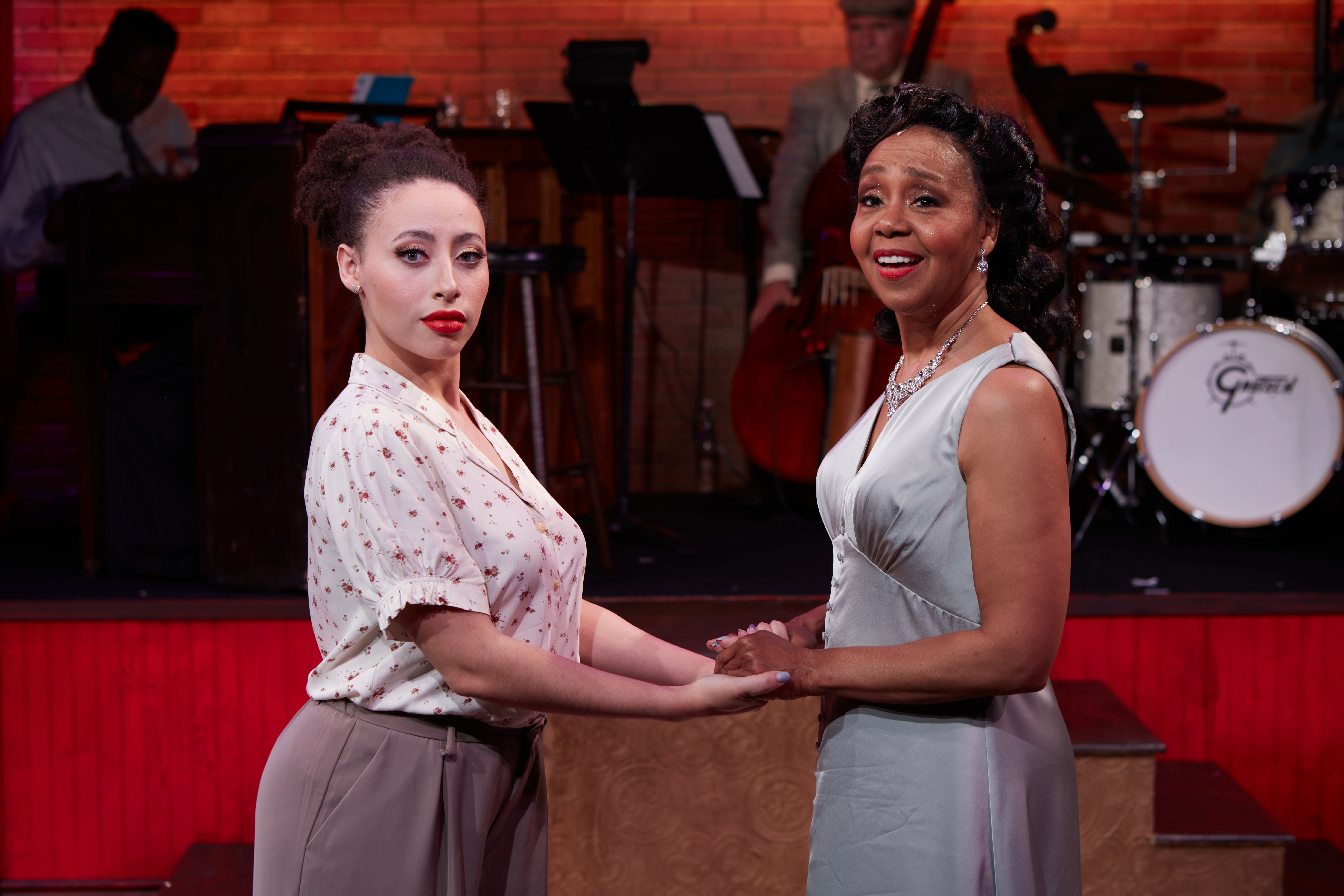 Ciarra Stroud & Karole Foreman - Photo by Aaron Rumley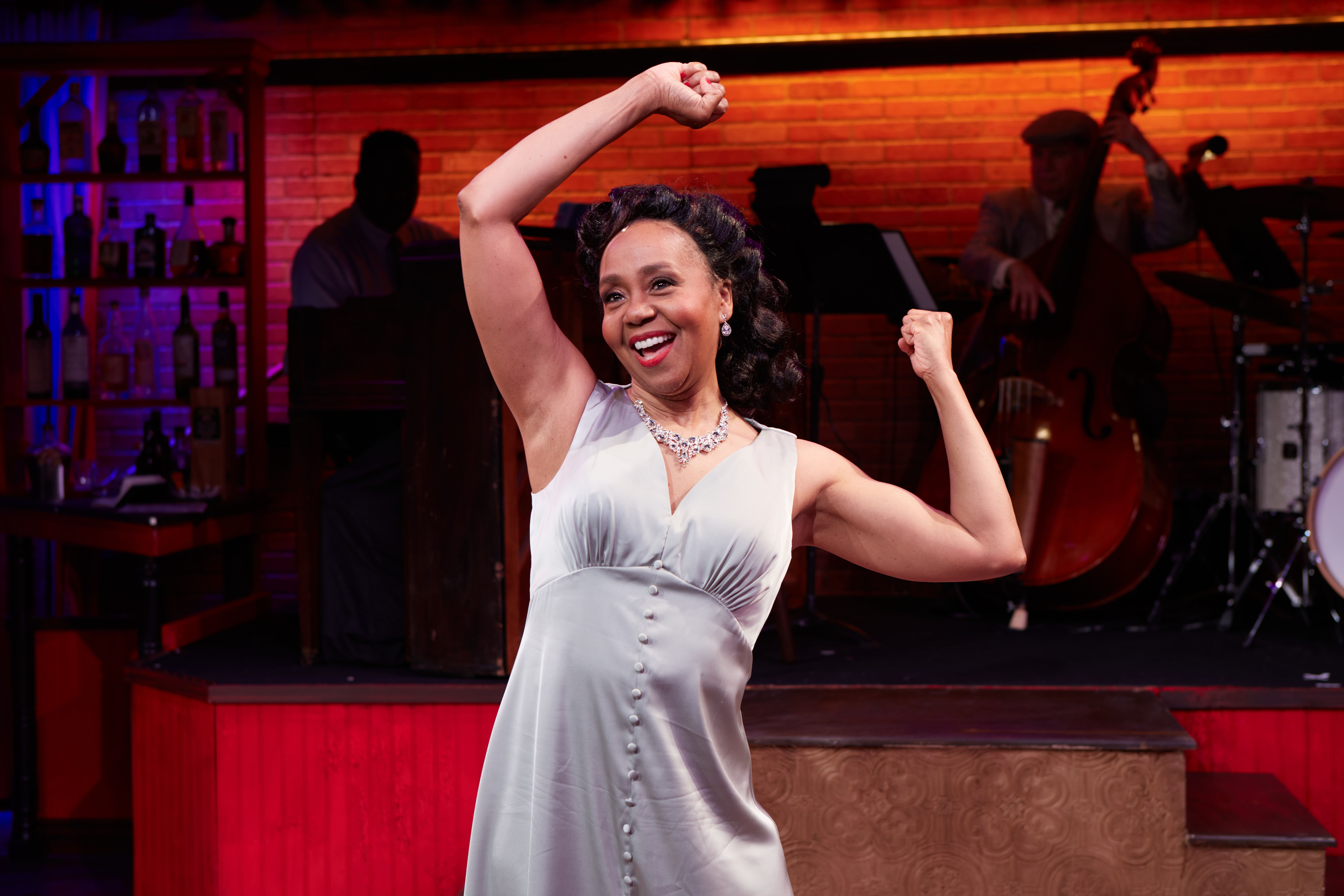 Karole Foreman - Photo by Aaron Rumley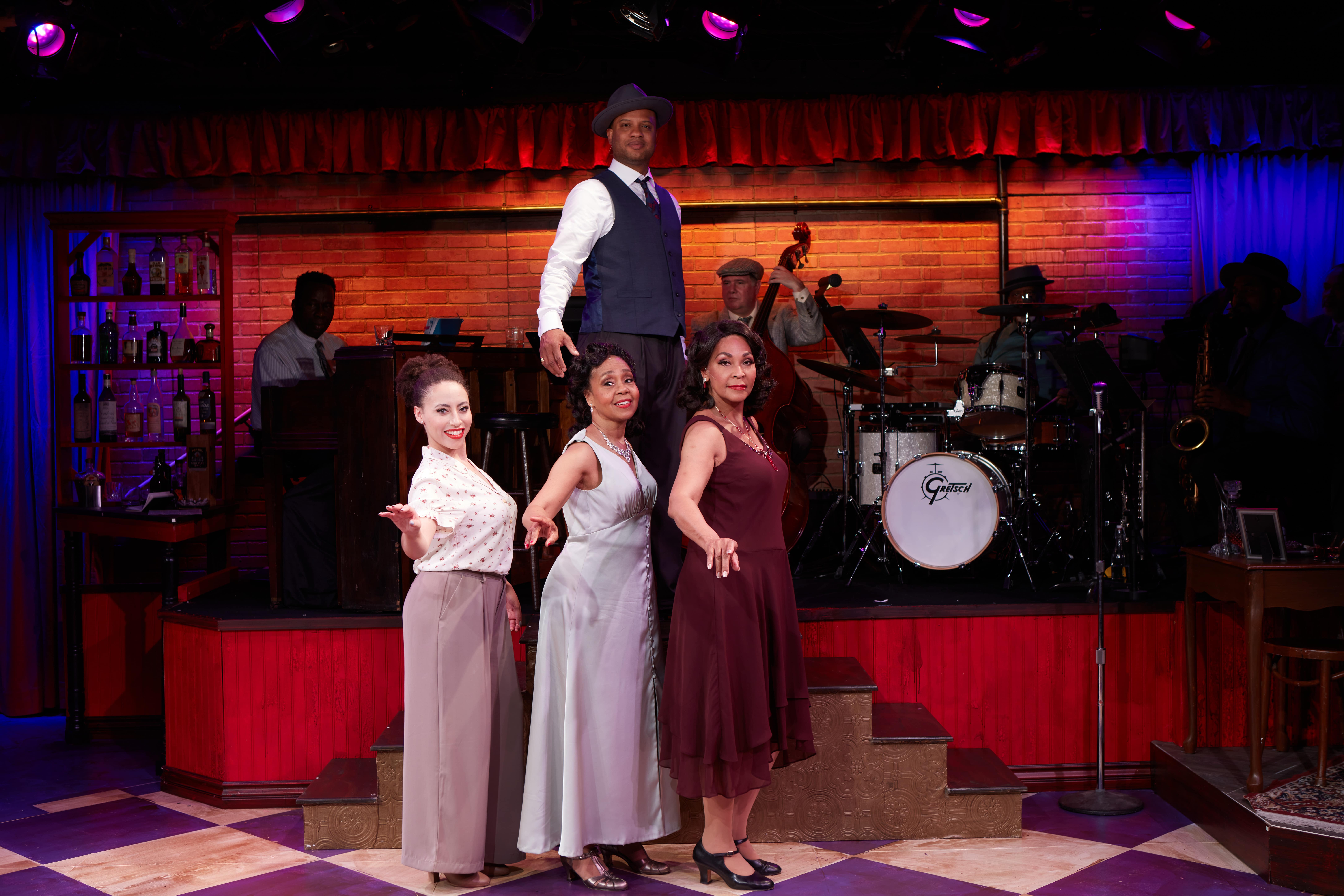 Front: Ciarra Stroud, Karole Foreman, & Anise Ritchie. Back: Elijah Rock - Photo by Aaron Rumley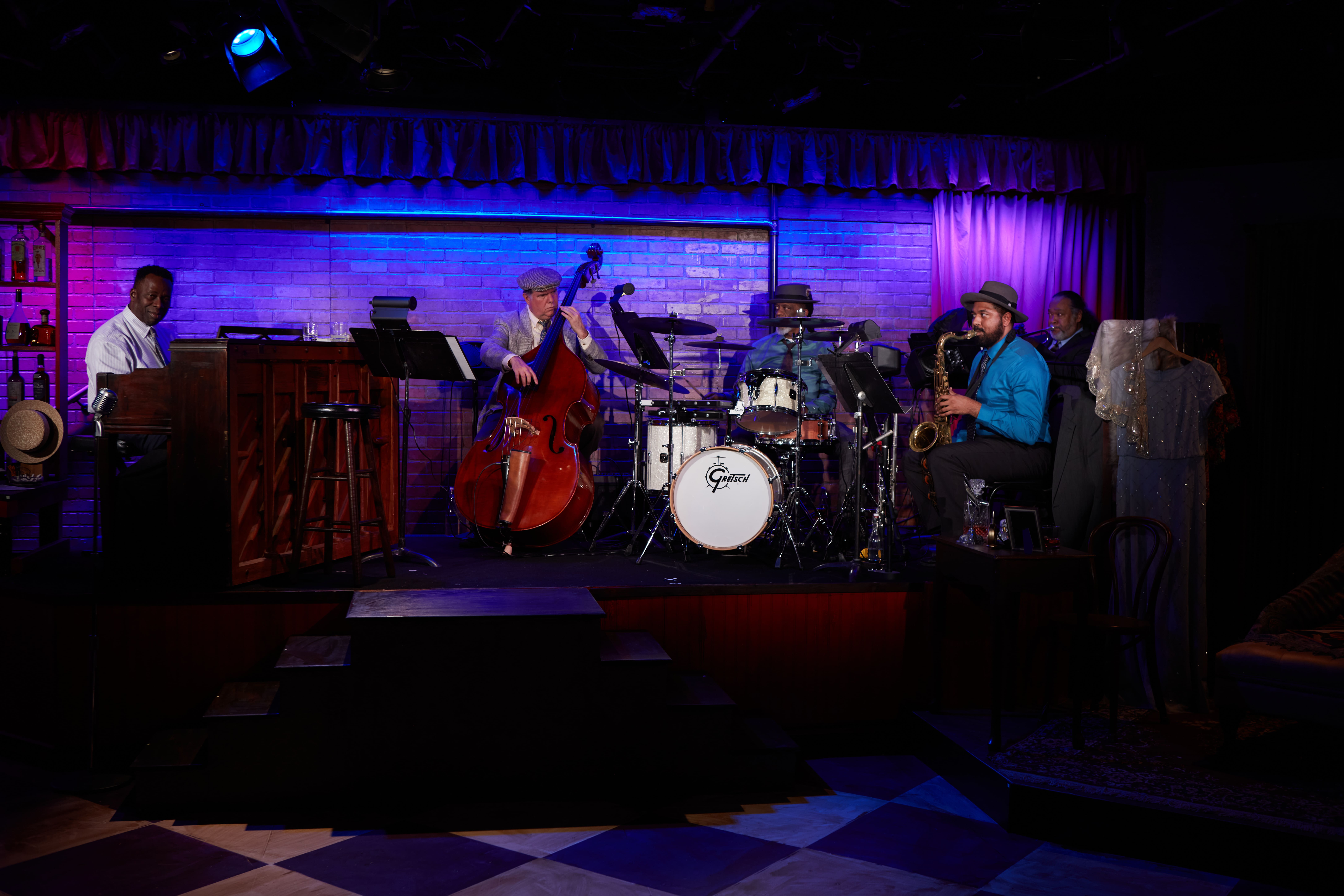 Blues In The Night Band - Photo By Aaron Rumley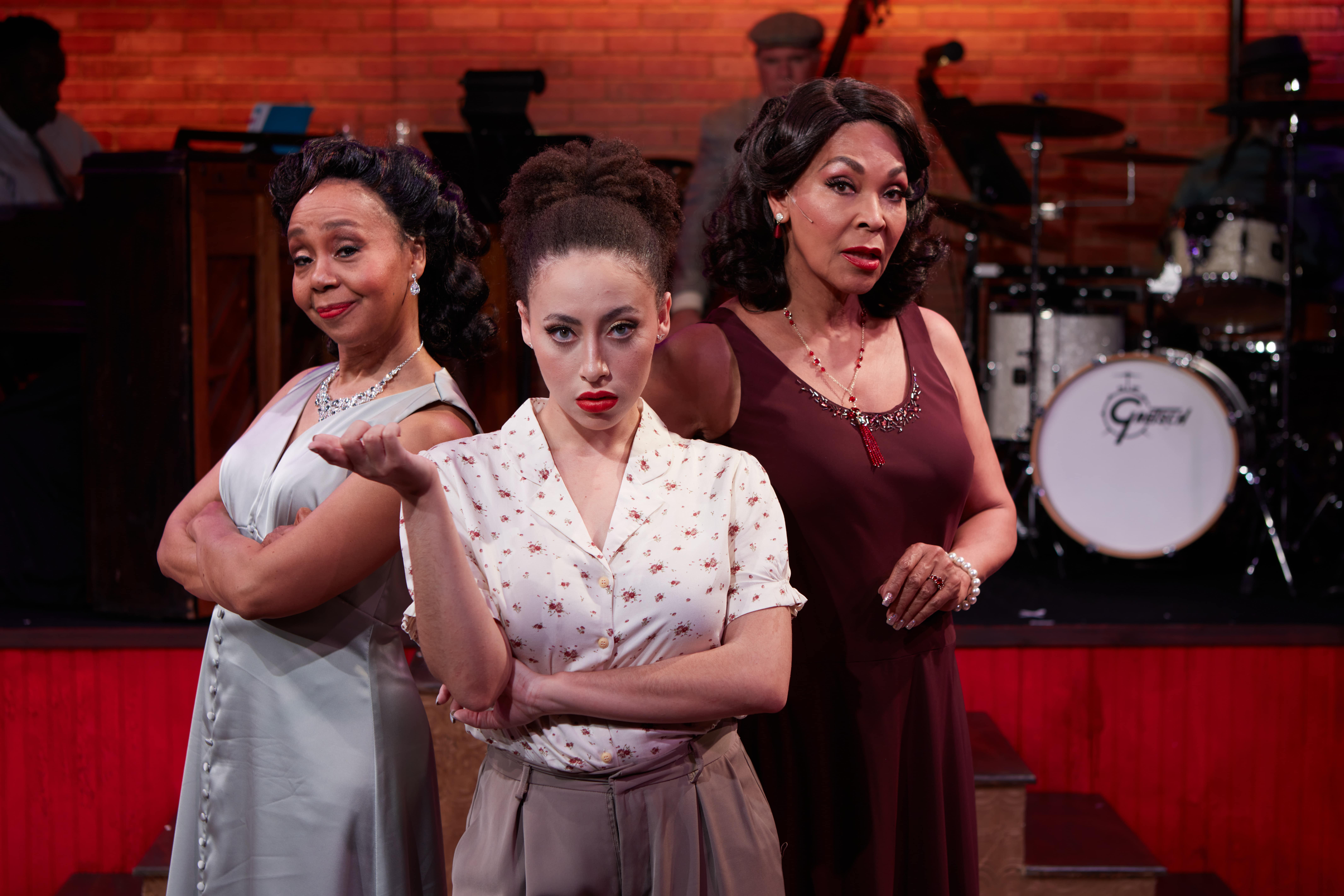 Karole Foreman, Ciarra Stroud & Anise Ritchie - Photo by Aaron Rumley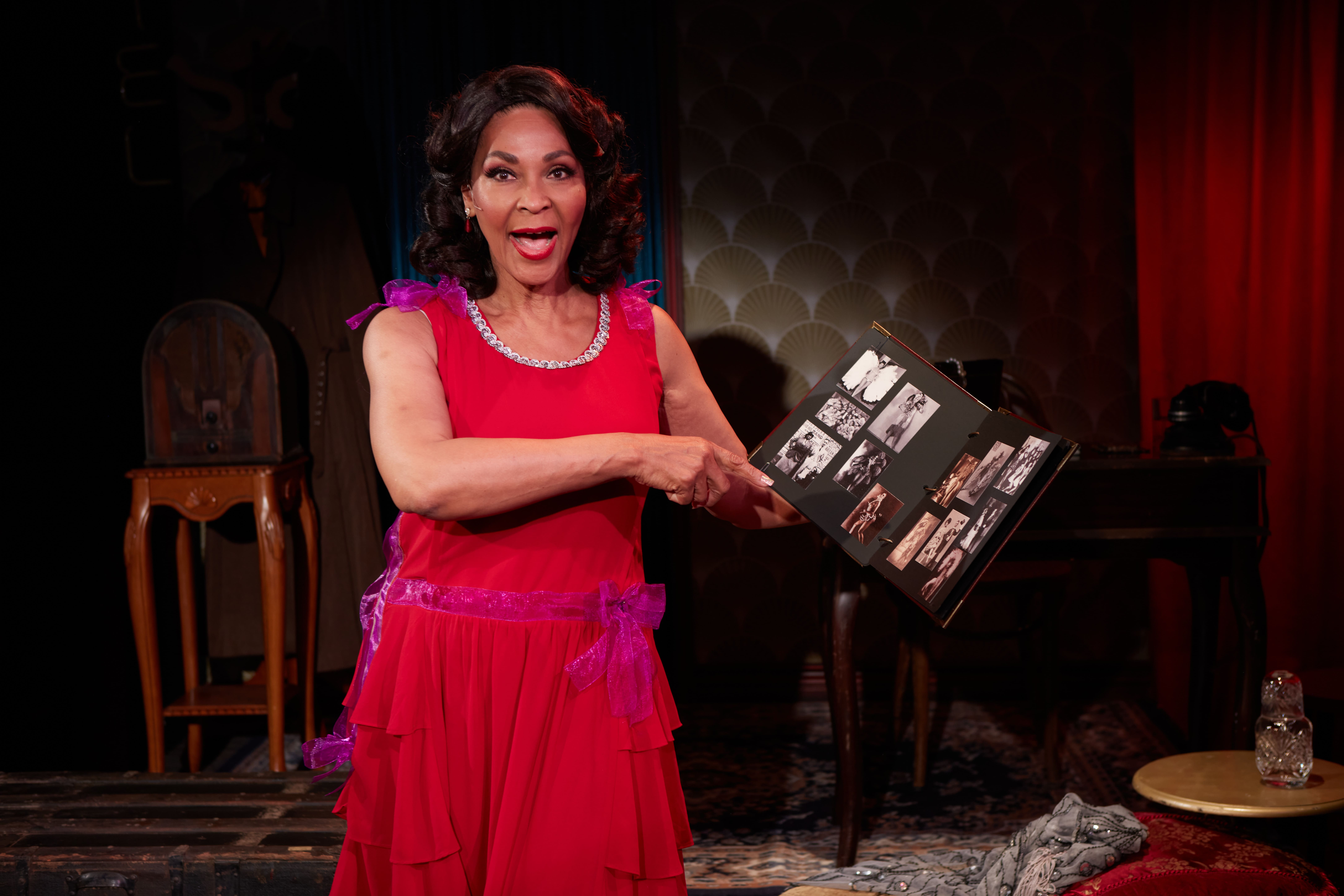 Anise Ritchie - Photo by Aaron Rumley
Anise Ritchie - Photo by Aaron Rumley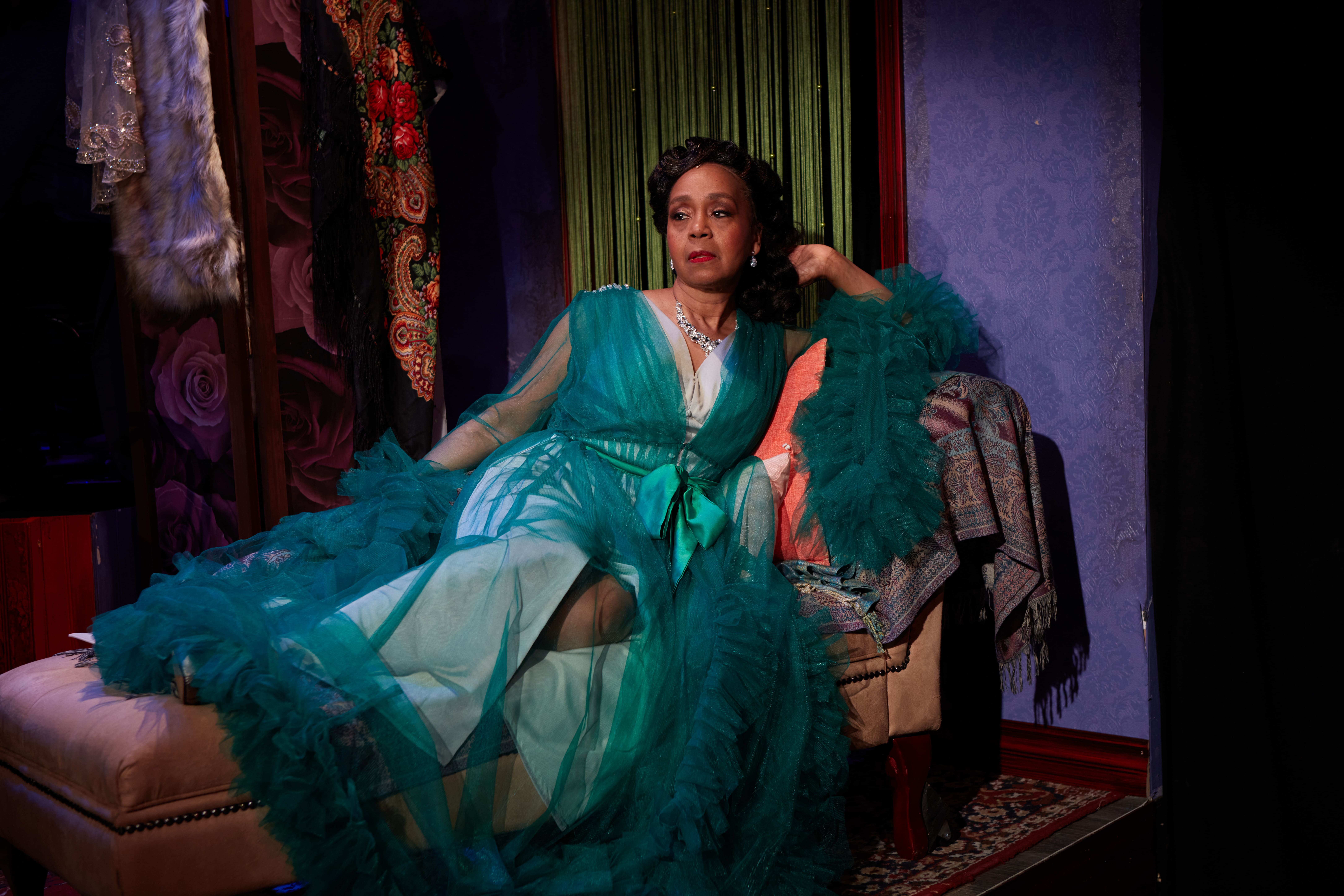 Karole Foreman - Photo by Aaron Rumley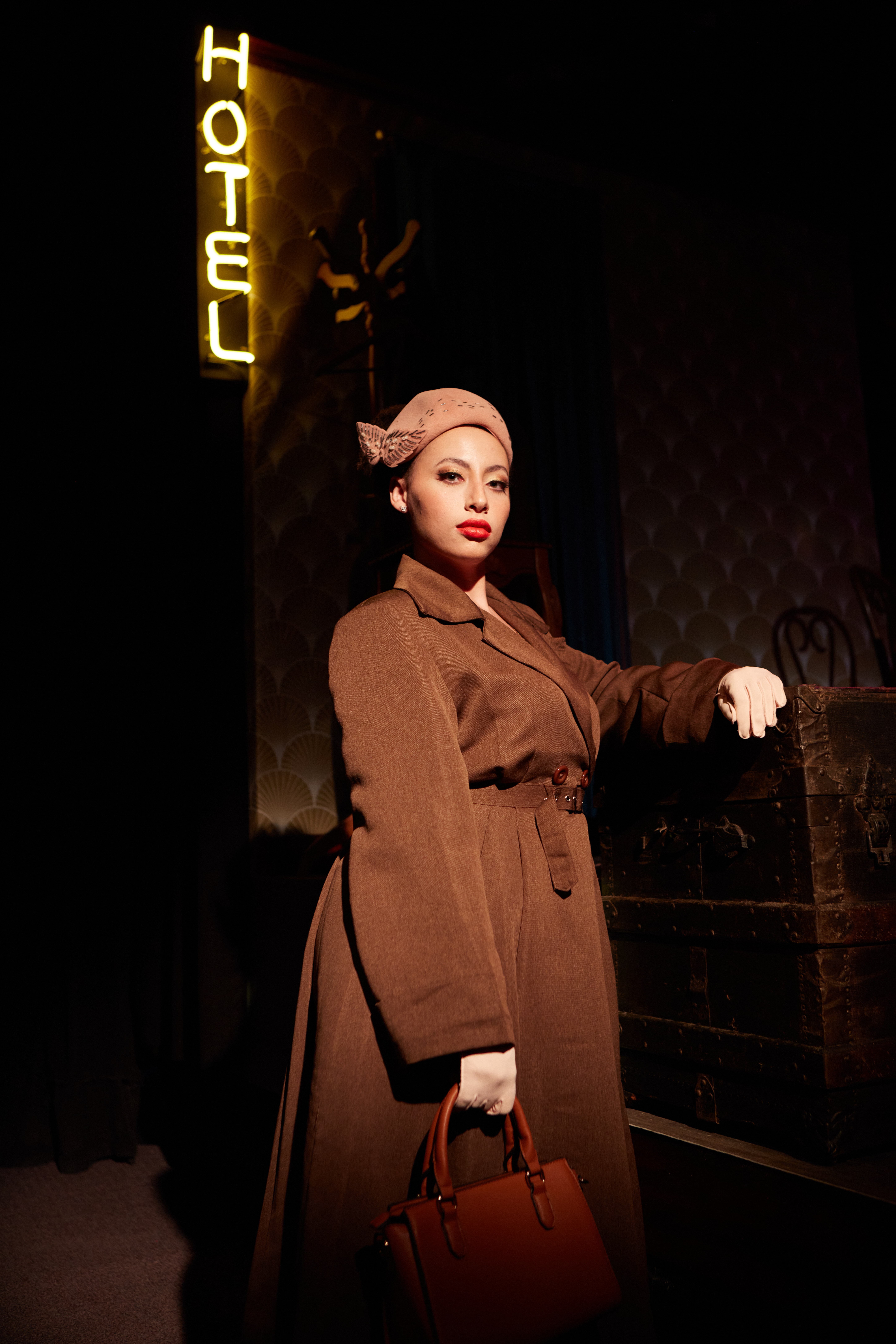 Ciarra Stroud - Photo by Aaron Rumley