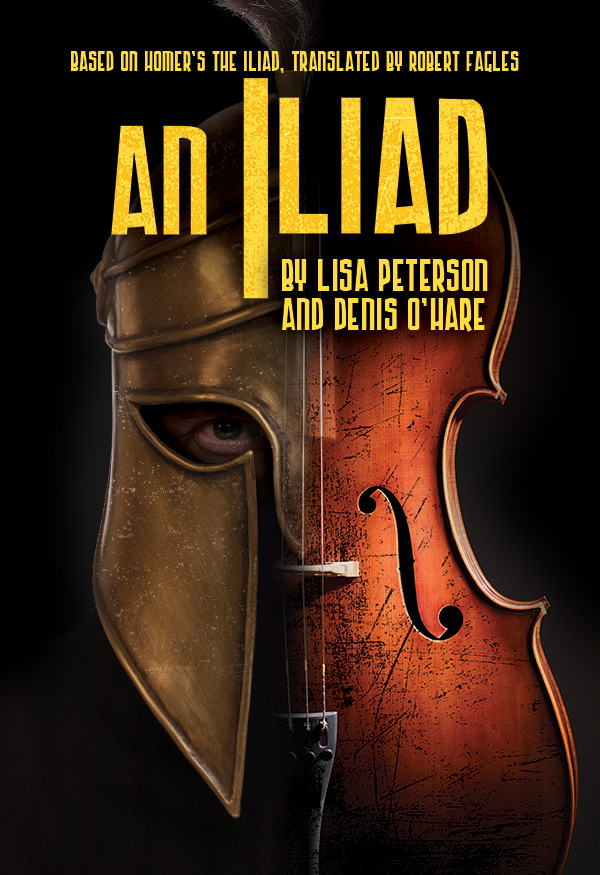 Return Engagement
Based on Homer's THE ILIAD
Translated by Robert Fagles
Directed by David Ellenstein
Featuring Richard Baird
Musician Amanda Schaar
March 31 – April 10, 2022
AN ILIAD is a dynamic tour-de-force adaptation of Homer's classic poem about the Trojan War. A war-weary poet recalls the nobility, savagery, and valor of the battles and warriors, while deftly exploring the human costs of war through the centuries. Award-winning actor Richard Baird brings to life the power and humor of this brilliant adaptation which will keep you enthralled throughout. A theatrical experience that is not to be missed.
Production sponsored by A. Fenner Milton.
What the Critics Are Saying
"I've been waiting eagerly for a production as good as this to divert home theatergoers from the equally horrific pandemic on which the world is waging a more benign kind of war.
The script of "An Iliad" allows directors to supply their own backstories for Homer's nameless stand-in, and David Ellenstein, who is also the company's artistic director, has made the excellent Mr. Baird a scruffily dressed tramp who is seen first on the shores of the Pacific, then shambling through town to the dark, seemingly empty theater where the show is to take place. What follows is a strikingly intimate performance—Mr. Baird gives the impression of speaking only to you, the viewer—in which the script's humor slowly, inexorably gives way to the horrors at play's end."
– Terry Teachout, The Wall Street Journal
---
"Baird manages to make the play both startling and highly entertaining, feats rarely achieved in many of the streaming theater productions I've watched over the past four months. Baird directly addresses the viewer using little but his resonant bass voice and a few minor props — a ladder, a ghost light and a bench — to tell the story. But that's all he needs for his engrossing and often funny tour de force performance."
– Pam Kragen, The San Diego Union~Tribune
---
"Deftly directed by savvy NCRT artistic director David Ellenstein, "An Iliad" stars award winning actor Richard Baird in a powerful, mesmerizing, tour-de-force, performance that leaves the streaming home audience in a state of awe."
– Jack Lyons, Desert Local News
---
"The best I've ever seen. Baird plays all the parts with superb voice and body language. Baird has a terrific Muse in Amanda Schaar, a fine cellist who both wrote and performs a fitting soundscape for the poet's musings. 'An Iliad' offers 100 minutes of excellent theater, highly recommended."
– Jean Lowerison, theater critic
---
"Directed by David Ellenstein, and featuring the masterful acting Richard Baird…. It's all about the storytelling. Baird captures your attention from the first moment and keeps you captivated all the way through as he tells the story of the Odyssey. This one hour and thirty-seven minute show held me enthralled."
– Kathy Carpenter, Splash Magazine
---
"Depicting multiple characters, Baird is wonderful in every role. He is generally eloquent and charismatic. An Iliad is a must-see rendition, largely because of Baird's tremendous performance and the work of the crew. If you are someone who fears that this will be a dry retelling of an epic poem, you are likely going to be blown away by what Ellenstein and the playwrights have accomplished."
– David Dixon, San Diego Story
---
"The emotion of this story pushes Baird almost to the breaking point as you begin to understand what humans have done to one another."
– TR Robertson, The Vista Press
---
"If you are looking for an excellent theatrical diversion that doesn't involve holiday caroling, The North Coast Repertory Theatre offers an outstanding production of AN ILIAD that you should not miss."
– E.H. Reiter, Broadwayworld.com